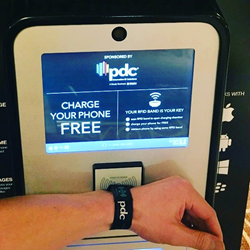 Brightbox delivers a true platform solution, with unparalleled flexibility, unrivaled physical and data security, and 99.9% amenity uptime.
New York, NY (PRWEB) December 31, 2015
Brightbox, Inc. (http://www.brightboxcharge.com), the American B2B kiosk technology company and leading global platform provider of secure mobile phone recharging solutions, is pleased to announce its latest platform enhancements as it continues to invest in new technology and a roll out of new product and platform features.
Brightbox has now introduced RFID readers and bar code scanning as new key methodologies for access to its secure charging kiosk chambers. In conjunction with its partner PDC Solutions, it enables RFID based identity programs already part of event activations to deliver an integrated experience for secure charging access. In early 2013 Brightbox had already enabled use of loyalty cards as keys to its secure charging kiosks, and it has now enabled loyalty program integration, opt-in email and SMS acquisition, opt-in data surveys, and delivery of digital coupons or promotions.
"Brightbox offers the broadest set of technology features to retail, hospitality and entertainment," said Andrew Skurdal, Chief Product Officer of Brightbox. "Phone charging can be paid or complimentary and venues can now choose between financial, tokenized or loyalty cards, RFID and pin codes as keys to our secure chambers."
Another new significant platform feature is partner access to Brightbox portals for video content management and data reporting. Opening its content and data platform to Brightbox partners enables their marketing staff to log on, directly manage content and messaging campaigns and download data.
"Our partners can now directly manage their own video content and access reporting data on the Brightbox platform," said Billy Gridley, CEO of Brightbox. "It's another reason why we continue to earn the trust and confidence of our customers. Brightbox delivers a true platform solution, with unparalleled flexibility, unrivaled physical and data security, and 99.9% amenity uptime."
Brightbox is unique because it offers marketers a trifecta solution: secure mobile re-charging, digital signage and interactivity. Founded in 2011, the Company has over 600 units deployed globally, in Brazil, Canada, Europe, Mexico and in 25 US states, in retail, hospitality, healthcare and other verticals. Brightbox is the technology leader in out-of-home secure charging solutions. No other global charging company has as large a global deployment footprint and as many business and technology partners.
Brightbox continues to implement innovative technology in its product platform to deliver customized product and brand campaigns to its partners. This summer it first deployed its sweepstakes module, enabling VidCon 2015 enthusiasts to enter-to-win a Panasonic video camera contest. It is now conducting discount coupon campaigns for Uber with on-screen codes, and at Westfield Malls it is executing a charitable contribution campaign collecting holiday donations for St. Jude Children's Research Hospital.
Via its partner ITM Mobile it can offer beacon technologies and customized apps for use in retail and at event activations, and via partner FISH Technologies, Brightbox features like email acquisition and barcode check-in can be integrated into event operating and data collection systems. At DSE (Digital Signage Expo) 2015 in Las Vegas, the company showcased its solution in Intel's Internet of Everything booth, winning the prize for Best Digital Signage Kiosk Application.
Brightbox develops all of its own software in-house, making it agile and responsive to market and customer needs. Its platform runs on the highly stable and secure LINUX operating system, as opposed to the Windows system. Brightbox is RoHS and PCI compliant, CE, FCC and UL certified and agency listed. Its advanced charging technology delivers the safest and quickest phone charge possible at the fastest optimized manufacturer's recommended rate while enabling easy cable service and upgrades.
About Brightbox
Brightbox® is a B2B kiosk technology company providing venues with a best-in-class mobile device recharging and digital marketing platform. Founded in 2011, Brightbox delivers advanced and innovative solutions, and has deployed its secure recharging kiosks in 5 countries and 27 states in a variety of vertical markets including retail, hospitality, entertainment, events, healthcare, and more.
Enterprise customers include Dream, Hilton, Hyatt, Omni, Sheraton, Caesars, MGM, Coca-Coca Company, Christie's, Heineken, LA Fitness, Planet Hollywood, RadioShack, Statue of Liberty, Time Warner Cable, Universal Studios, Westfield Malls, New York Red Bulls, Phoenix Suns, Round Rock Express, Staten Island Yankees, Tampa Bay Rays, Baystate Health, Mount Sinai Health, Orlando Health, Yale New Haven Health, Columbia University, CUNY, American Airlines and British Airways. Event customers include AOL, BBC Comic-Con, CEDIA, Citibank, Coca-Cola Company, Detroit Grand Prix, Discovery Channel, Event Tech, FISH Technologies, Gartner, HBO, IBM, IMEX, ITM Mobile, iHeartMedia, InCharged, Intel, Major League Baseball, Minor League Baseball, NFL Experience, PDC Solutions, Pitney Bowes, Octagon SXSW, So Cool Events, Samsung, Societe Generale, T-Mobile, UBS, Uber, Verizon, VidCon and Wells Fargo. Learn more at http://www.brightboxcharge.com and @brightboxcharge.