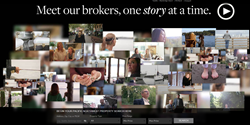 Seattle, WA (PRWEB) December 31, 2015
Executives of Realogics Sotheby's International Realty (RSIR) announced significant expansion in 2015 with company gross sales (commission income) increasing 32% year-over-year to more than $800 million in closed home sales. The innovative real estate firm is home to numerous new and established broker teams, whom executives say are an ongoing "catalyst" for growth. RSIR reports several teams now produce more than $50 million in real estate sales annually.
"More and more brokers seek to form exclusive team structures at RSIR because our platform is engineered to support their growth," said Dean Jones, President and CEO of RSIR. "Having a team allows members to divide responsibilities, resource additional opportunities and hopefully, find some balance in their lives. Our success with teams proves that you can have it all if you adopt our 'better-together' philosophy."
Jones says individual brokers tend to hit a ceiling in terms of the number of deals they can do alone. Much like a venture capitalist invests in companies to grow, RSIR partners with its broker teams by providing strategy, exclusive marketing platforms and administrative support. In exchange, the firm participates in that broker's upside growth.
"Most brokerages seem more focused on the broker splits and/or desk rentals for their income so they are motivated to add broker count versus aggregated production," adds Jones. "Our model is better aligned with what the broker and broker teams need to excel while establishing their own brand within our brand. It's also a catalyst to our growth as a firm."
Sam Cunningham, a principal of Citrone Partners at RSIR applies his award-winning sales approach with project marketing to the resale marketplace alongside his 10-year partners Sandy Justen and Julie Biniasz. This dynamic trio is not only a top-producing broker team at RSIR but the collective has expanded their success across multiple product types, price points and neighborhoods throughout the Pacific Northwest.
"Having established ourselves as market leaders in downtown Seattle, we now service additional markets with similar success," said Cunningham. "As a father to a young family and an avid traveler, our team structure allows certain freedoms while still maintaining the high level of customer service that our clients deserve. I'm confident we generate more production as a three person team than we would as three individuals."
The top producing RSIR teams for 2015 categorized by gross sales production and (broker count) include: The Moira Holley Team (3); Citrone Partners (3); Seattle by Design (2); The Lili Shang Team (2); The Kipp Team (2); The Nielsen & Flynn Team (2); Team Burmester & Dougan (3); The Dream Team (4); The Cassie Daughtrey Team (2); The Gray Team (3); Winningham King & Associates (2); The Mark Middleton Team (2); The Sonja Jones Team (2); Norris & Norris (2); The Leah Applewhite Team (2); Hopper Group (2); The Connie Blumenthal Team (2); Seattle's Greatest Homes (2); The Dennis Paige Team (2); and the Stroupe Group (3).
A team strategy is also being offered by RSIR's new Asia Services Group ("ASG") – a collective of brokers that are familiar with the language and logistics when working with foreign nationals, most notably Chinese, which has become a fast-growing market segment locally. RSIR brokers are able to draw resources from the ASG when making listing presentations, marketing a property overseas or working with an inbound buyer.
Likewise, RSIR offers its brokers direct access to a vertically integrated in-house team that offers market research, product development, marketing, communications and transaction coordination. This internal team allows each broker to focus their time building their business and servicing their clients instead of being burdened by tasks.
"We learned to incorporate RSIR's impressive resources as part of our team, as this is no longer a personality-based industry – it takes a village," said Ev Winningham of RSIR's Winningham King Team. "My partner and I have been a team for more than twenty years but this is the first time I've felt that my brokerage is part of my company and is motivated by our success."
RSIR has helped to build new broker teams and is a popular brokerage firm for existing broker teams that feel they've outgrown the available resources or benefits of their former company. Top-producing brokers thinking about their legacy are also migrating to RSIR with plans to build a team. They aspire for greater flexibility and eventually retirement while maintaining an income stream.
"These successful evolutions in our industry respond to a core need by our brokers – and we're listening," concludes Jones. "Rather than trying to force our brokers to conform to an economic model designed decades ago, we deploy proven win-win strategies that are sustainable and scalable into the future. We grow together."
###
About Realogics Sotheby's International Realty (http://www.RSIR.com) - Artfully uniting extraordinary homes with extraordinary lives, Realogics Sotheby's International Realty is a leading global sales and marketing brokerage firm in the Pacific Northwest. Recognized by the Puget Sound Business Journal amongst the fastest-growing private companies in Washington State for 2012, 2013, 2014 and 2015, the boutique real estate firm of 140+ brokers consistently ranks among the top producing firms within the markets that it serves with branches in downtown Seattle, Bainbridge Island, Kirkland and now Issaquah.
EDITORS NOTES: For high-resolution photography contact Andrea Savage at 206.448.5752 or email Andrea.Savage(at)RSIR(dot)com.