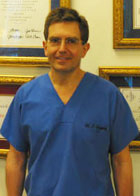 Allentown, PA (PRWEB) January 04, 2016
People who need treatment for gum recession in Allentown, PA, can now visit Dr. Joseph Gaspari in Bethlehem for the Chao Pinhole® Surgical Technique, an innovative alternative to gum grafting. This procedure offers patients relief from various, unwanted effects of gum recession, including sensitive teeth, bleeding, and discomfort. Additionally, the procedure promises long-term health benefits and a lower risk of undesirable outcomes.
The Chao Pinhole® Surgical Technique eliminates many complications associated with traditional gum recession treatment, due to its minimally invasive nature. Dr. Gaspari performs this procedure by making a minuscule pinprick in the receding gum tissue, utilizing a specialized tool to reach through this "pinhole", adjusting tissue accordingly. This method of treatment allows Dr. Gaspari to reposition the gums to a more natural position, covering more surface area of each tooth. This procedure, which does not require incisions or sutures, decreases the risk for infections, bleeding, swelling, and pain. Patients can expect immediate cosmetic improvements and a decreased chance of adverse symptoms, such as sensitive teeth.
Dr. Gaspari offers this new procedure, especially for those who may otherwise postpone treatment for gum recession in Allentown, PA, allowing patients to secure professional attention promptly. If left untreated, gum recession may leave teeth vulnerable to infection, decay, and trauma. Additionally, recession may be indicative of other oral health problems, such as gum disease. Earlier treatment can prevent complications, providing an opportunity for the diagnosis of potential, underlying issues associated with gum recession.
Those who have noticed symptoms of recession, such as sensitive teeth, changes in smile appearance or increases in gum pocket depth, should schedule a consultation for professional treatment. People who believe they are suffering from gum recession in Allentown, PA, can make an appointment by calling Dr. Gaspari's office or visiting his website.
About the Practice
Gaspari Family Dental Care is a general practice offering personalized care for patients in Bethlehem, PA. Dr. Joseph Gaspari and his team are dedicated to providing comprehensive dental care through the use of innovative and modern techniques. They other services such as laser gum surgery, Chao Pinhole® Surgical Technique, sedation dentistry and dental implants. Dr. Gaspari is a Fellow with the International Congress of Oral Implantology and with the Misch International Implant Institute. He is also a member of the American Academy of Periodontology and the American Society for the Advancement of Aesthetics in Dentistry. To learn more about the services offered at Gaspari Family Dental Care, please visit their website, http://www.drgaspari.com or call (484) 552-2081 to schedule an appointment.