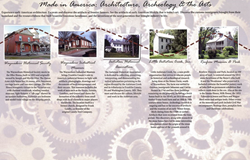 Made in America is sure to inspire and build an appreciation of the architecture, archaeology and art.
Franklin County, PA (PRWEB) December 31, 2015
Experience early American architecture. Excavate and discover the artifacts of frontier farmers. See artifacts of early American lifestyle that is today's art. Discover the customs immigrants brought from their homeland & the resources that built beautiful limestone farmhouses and the inventions of the next generation that brought industry to life.
The tour begins at the Waynesboro Historical Society, housed in the 1892 Oller House, the family home of Joseph and Myrtle Oller, a prominent family of the community. Joseph Oller worked in banking and industry in his lifetime. The house, built in Queen Anne style, has 16 rooms, attic, basement, carriage house, and two-story garage. Visitors are transported to the Victorian era with chestnut woodwork, winding wooden staircase, elegant light fixtures, a rib cage shower in an upstairs bathroom, and the Victorian bedroom furnishings. A must see is the model train village on the upstairs sleeping porch.
Just a few blocks away is the next stop--Waynesboro Area Industrial Heritage Museum. It is located in a former church, design by Frank Landis, who co-founded the Landis Tool Company in 1897. Landis Tool Company operated until 2007 in Waynesboro. The Industrial Museum brings Franklin County role in America's industry to light with artifacts, photograph, drawings, and documents of local enterprises. It tells the stories of local entrepreneurs' work to move industry forward in Waynesboro and the worldwide impact of those efforts. The museum includes the work of the Landis brothers, George Frick, and Peter Geiser. Displays show the formation of industry from small shops with local clientele to major players worldwide. Also included are the stories of Beck Manufacturing & Grove international, one of the world's largest manufacturers of cranes & lifts.
The tour continues at Antietam Historical Association, which is dedicated to collecting, preserving, and interpreting historical information of the region drained by Antietam Creek and its tributaries with parts in Franklin County PA and Washington County MD. Discover the culture, lifestyle, and work of this locale.
Following is lunch with the group or on your own, and then onto Little Antietam Creek, Inc. for an opportunity to participate in an archaeological dig. Work is actively underway at the Stoner Farm, south of Waynesboro. The farm was settled by German immigrants Johannes and Catrin Steiner in 1744. The farm has three buildings, including a house built in the 1850s, an 1832 stone and timber frame bank barn, and an18th-19th century stone house. Artifacts dating from 1760s or earlier have been discovered. This discovery will help lead to interesting conclusions about the origin of the stone house and the use of the grounds around it.
Renfrew Museum & Park, with more than 100 acres of land, is the final stop on the tour. The site interprets early American German life and customs and includes an 1812 farmhouse, smokehouse, milkhouse, and summer kitchen as well as an 1852 farmhouse with barn and wagon shed. Renfrew Museum also houses an extensive collection of John Bell Pottery. Bell is well-known for redware and stoneware and noted for proficiency and technical innovation with glazes and stylistic details that bring together Germanic and American tradition. He used color, such as celadon—a pale gray-green hue, and used cobalt in earthenware glazes, which was a rare application at the time.
Made in America is sure to inspire and build an appreciation of the architecture, archaeology and art that is particularly American. Discover more about the April 16 Spring Into History event and the Made in America Tour at http://www.ExploreFranklinCountyPA.com.
The Franklin County Visitors Bureau invites all to explore Franklin County PA and enjoy the trails of history, arts and architecture, recreation, natural beauty, fresh foods and the warm hospitality of communities like Chambersburg, Greencastle, Mercersburg, Shippensburg, and Waynesboro. Franklin County PA is located just north of the Mason Dixon Line and is an easy drive to Washington DC, Philadelphia, and Pittsburgh. Discover more... plan a visit soon at [ExploreFranklinCountyPA.com or by contacting 866-646-8060.