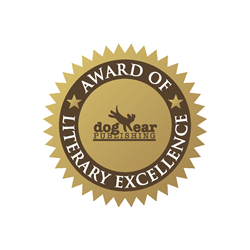 'This award is a unique opportunity for authors to have their work recognized as truly great books and, at the same time, create an excellent opportunity for readers to explore truly new and unique books from a wide range of independent authors.'
INDIANAPOLIS (PRWEB) January 05, 2016
Something new arrived at Dog Ear Publishing this year – a unique way for the company to recognize its top-notch authors. The Dog Ear Publishing Award of Literary Excellence, given to just nine of Dog Ear's 2015 releases, honors books that earned the company's highest marks from a highly skilled editor.
"The award is designed to deliver recognition for great writing to our authors," said Ray Robinson, publisher, Dog Ear Publishing. "It provides a level of validation never found within the self-publishing industry," he said, pointing out that Dog Ear is the only self-publishing company assessing authors' works based on a stringent and defined set of editorial criteria and then applying a real-world quality rating. "A book that receives this award is of a uniquely high quality within the publishing world, from any publisher. These books will stand up to the best literary works from around the world."
The company's editorial team decides which products qualify for the award, and the recommendations are then reviewed by the managing editor, editorial services manager, and the publisher. It is a distinction that is very challenging to achieve.
"This award is reserved for books that have been reviewed by our highly experienced editorial staff," said Adrienne Miller, editorial services manager. "When an editor works on a title they really, really enjoy, they get the chance to recommend awarding the Dog Ear Publishing Award of Literary Excellence. It is our way of recognizing authors when they've succeeded at creating a great book – books that any reader will find worthy of reading."
Only a tiny percentage of eligible books achieve the honor. Stephanie Seifert-Stringham, managing editor, said how well the story is written is the first sign of a potential award winner. Editors also weigh qualities such as how well the book appeals to its intended audience and whether it has a unique or engaging voice.
"If it's fiction, the editor often describes it as a page turner or states that she didn't want to stop reading. Maybe it's action or deep introspection; usually characters are well-developed and the reader begins to identify with them. Really, you're looking at the same things that make a lot of books best sellers," she said.
Nonfiction texts win points for being useful to a broad audience, although niche books also can do well. "These are books with ideas that are clearly expressed and engaging to the audience," Seifert-Stringham said.
Robinson and Miller said the award was inspired by discussions with staff. "This idea came from Dog Ear trying to find better ways to acknowledge great content," Miller said. "This is something that we each care a lot about."
Thus far, authors are excited to receive the award, which appears with the company's logo inside a gold circle printed on the front cover.
"Many of these writers have been fine-tuning their writing for years. They have worked really, really hard to create the content that they turn over to Dog Ear," Miller said. "Having professionals with years of industry experience and lots and lots and lots of critical reading under their belts notice that hard work and commitment really means a lot. It means that years of hard work has led to something that a highly skilled, hard-to-impress editor really enjoyed. It doesn't get much better than that."
Dylan Edward Asher, who had two books that earned the award this year (in addition to a "Best Books of 2015" award from Kirkus Reviews), likes having the award printed on the cover. "I can market my series as an award-winning series," he said. "Having your books be award-winning is a great thing. It's vindicating and gives you confidence when you're trying to crack into a tough market."
For A. Stanford, the award was a form of encouragement. "It made me feel like I should keep writing," she said, adding that some of the characters had been with her since she was 15 years old.
Madalyn S. Kinsey felt similarly. "There's an underlying element of insecurity to (want to) have your work acknowleged," she said, adding that she wanted this second book in a series to be a strong offering. "The award reassured me that it was worthwhile, and that was tremendously gratifying."
It's not just Dog Ear authors who appreciate the new literary award. "The editors really appreciate the chance to give recognition to the excellent books we encounter," Seifert-Stringham said.
The award also helps readers looking for a well-written book discover new things to read, Robinson pointed out. "This award is a unique opportunity for authors to have their work recognized as truly great books and, at the same time, create an excellent opportunity for readers to explore truly new and unique books from a wide range of independent authors."
The following authors won the Award of Literary Excellence in 2015:
Dylan Edward Asher, crime fiction, "Strike a Poser." Amazon link: http://www.amazon.com/Strike-Poser-Dylan-Edward-Asher/dp/1457540673/ref=sr_1_1?ie=UTF8&qid=1449500412&sr=8-1&keywords=9781457540677
Dylan Edward Asher, crime fiction, "It's a Calamity, Jane." http://www.amazon.com/Calamity-Jane-Dylan-Edward-Asher/dp/1457535394/ref=sr_1_1?ie=UTF8&qid=1449501814&sr=8-1&keywords=9781457535390
Stan Beebe, biography, "The War Christmases, 1941-45." http://www.amazon.com/gp/product/1457542102?keywords=9781457542107&qid=1450883571&ref_=sr_1_1&sr=8-1
Joe Carroll, self-help, "Experiencing God in Your Work. http://www.amazon.com/s/ref=nb_sb_noss?url=search-alias%3Daps&field-keywords=978-145754-128-5
Arild Gautestad, scientific nonfiction, "Animal Space Use." http://www.amazon.com/ANIMAL-SPACE-USE-Complexity-Biophysical/dp/1457541807/ref=sr_1_1?ie=UTF8&qid=1449500238&sr=8-1&keywords=9781457541803
Elissa Briskin Greenberg, children's book, "Princess Rayna Rescues Leo." http://www.amazon.com/Princess-Rayna-Rescues-Leo-Adventures/dp/1457541254/ref=sr_1_1?ie=UTF8&qid=1449500907&sr=8-1&keywords=9781457541254
Madalyn S. Kinsey, young adult mystery, "The Mystery of Gatewood Airport." http://www.amazon.com/Mystery-Gatewood-Airport-Vanessa/dp/1457541637/ref=sr_1_1?ie=UTF8&qid=1449501548&sr=8-1&keywords=9781457541636
Sandy Little, children's book, "Montgomery Rabbit." http://www.amazon.com/gp/product/1457541963?keywords=9781457541964&qid=1449499966&ref_=sr_1_1&sr=8-1
A. Stanford, sci-fi young adult, "Princess So'la in My World." http://www.amazon.com/Princess-Sola-World-Stanford/dp/1457537974/ref=sr_1_1?ie=UTF8&qid=1449501675&sr=8-1&keywords=9781457537974
----------
For additional information, please visit http://www.dogearpublishing.net.
About Dog Ear Publishing, LLC
Dog Ear Publishing offers completely customized self-publishing services for independent authors. We provide cost-effective, fast, and highly profitable services to publish and distribute independently published books. Our book publishing and distribution services reach worldwide. Dog Ear authors retain all rights and complete creative control throughout the entire self-publishing process. Dog Ear Publishing reviews services and other book marketing services are available to connect great content with interested readers. Self-publishing services are available globally at http://www.dogearpublishing.net and from our offices in Indianapolis.
Dog Ear Publishing – self-publishing that actually makes sense.