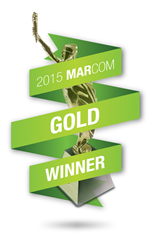 It's such a rewarding experience any time we can exceed a client's expectations and make a local impact with our work.
Kansas City, MO (PRWEB) December 31, 2015
Gragg Advertising has been named a 2015 MarCom Gold Award winner for its creative design work with the National Council of La Raza (NCLR), the nation's largest Hispanic civil rights and advocacy leader. The MarCom Awards are an international creative competition that recognizes outstanding achievement by marketing and communications professionals—the gold award is presented to companies who exceed the high standards of the industry norm.
"We were tasked with designing the logo and theme for NCLR's 2015 annual conference and we graciously accept this win for such a memorable project," said Gragg President and COO Darryl Mattox. NCLR needed help bringing their vision to life—encouraging conference attendees to lead, connect and empower. "Effective branding is essential to the success of any organization and we are honored to partner with this group and help bring more awareness to their efforts as they continue to do so much for the community."
In addition to lining the streets of downtown Kansas City, Gragg's NCLR logo became the backdrop to the event, which attracted performers and speakers from across the nation—including former United States Secretary of Defense Hillary Clinton. As with each project, the Gragg team dedicated many hours to the research and design of this logo. It pictures Kansas City's Christopher S. Bond Bridge that replaced the historic Paseo Bridge connecting the Northland (area of Kansas City over the Missouri River), to the Paseo expressway, created after the grand avenue of Mexico City.
"It was a perfect pairing to design the event logo around the host city's local landmark while complementing NCLR's theme of 'connecting tomorrow'," said Rick Anderson, Gragg's Creative Director. In helping to market the conference, Gragg is proud to call this renowned organization a partner client. "It's such a rewarding experience any time we can exceed a client's expectations and make a local impact with our work."
To read more about Gragg's creative design process and to view the award-winning logo, visit graggadv.com.
About Gragg Advertising:
Gragg Advertising is a full-service direct response marketing agency located in Kansas City, Mo. With a focus in online technology, Gragg has been recognized by Forbes as one of the world's "Top 100 Agencies that Know Social Media and Google". Gragg combines traditional branding strategy with proven direct response marketing tactics to create advertising that is both memorable and measurable.