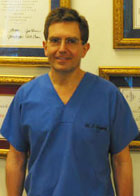 Allentown, PA (PRWEB) December 31, 2015
Patients who prolong receiving necessary dental care, due to severe levels of dental fear, are now invited to visit Dr. Joseph Gaspari's practice to receive sedation dentistry in Allentown, PA. Adults and children who may be anxious about the discomfort commonly associated with certain dental procedures often respond favorably, when sedation is administered during their appointment. Dr. Gaspari offers intravenous (IV) sedation dentistry, one of the most effective forms of sedation for patients with moderate to severe dental anxiety.
Dr. Gaspari now invites patients with various levels of dental fear to visit his office and receive sedation dentistry in Allentown, PA. Dr. Gaspari recommends that patients with moderate or severe levels of dental anxiety receive IV sedation, which is administered directly into the blood stream, safely alleviating fear and discomfort. Once the patient is calm and relaxed, Dr. Gaspari can perform necessary dental procedures, assisting the patient in maintaining an optimum level of oral health.
Following the administration of anesthetic into the patient's bloodstream, the patient may progressively begin to experience a reduction in anxiety levels. Dr. Gaspari ensures that his patients are precisely monitored throughout the sedation and treatment process. Oxygen levels, blood pressure, and heart rate are constantly assessed to ensure steadiness and normalcy. Most patients cannot recollect the procedure once the anesthetic medication has diminished, due to an altered state of temporary amnesia while under the influence of the sedation. While some patients may recall some aspects about their procedure, the intricate details may not provide lucidity.
Anxious patients or parents of children who struggle with dental fear are encouraged to inquire about dental treatments performed in conjunction with sedation dentistry in Allentown, PA. Appointments can be scheduled during normal business hours by calling Dr. Gaspari's dental practice.
About the Doctor
Gaspari Family Dental Care is a general practice offering personalized care for patients in Bethlehem, PA. Dr. Joseph Gaspari and his team are dedicated to providing comprehensive dental care through the use of innovative and modern techniques. Gaspari Family Dental offers a variety of other services such as laser gum surgery, Chao Pinhole® Surgical Technique, sedation dentistry and dental implants. Dr. Gaspari is a Fellow with the International Congress of Oral Implantology and with the Misch International Implant Institute. He is also a member of the American Academy of Periodontology and the American Society for the Advancement of Aesthetics in Dentistry. To learn more about the services offered at Gaspari Family Dental Care, please visit their website, http://www.drgaspari.com or call (484) 552-2081 to schedule an appointment.