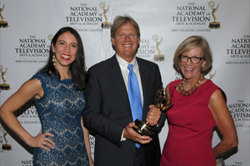 The most difficult challenges facing divorced parents, rare or unheard of a generation ago, include cell phone/internet use and discipline, homeschooling, passports and air travel, corporal punishment and 'meeting dad's girlfriend' for the first time
Philadelphia, PA (PRWEB) December 31, 2015
The American Law Journal presents "Child Custody in High Tech: When Rules of Divorced Households Differ."
On the legal talk feature television program airing on the Philadelphia CNN-News affiliate WFMZ-TV, host attorney Christopher Naughton welcomed family law practitioners Donald F. Spry II of Pennsylvania's King Spry Herman Freund & Faul, David Ladov of Obermayer, Rebmann, Maxwell & Hippel LLP and Mary Vidas of Blank Rome. Author and director for the Center for Couples & Family Solutions, Dr. Debra Castaldo, Ph.D. joined the discussion.
The panel examined the most difficult challenges facing divorced parents that were rare or unheard of a generation ago: cell phone/internet use and discipline, homeschooling, passports and air travel for kids, corporal punishment and 'meeting dad's girlfriend' for the first time.
In an opening feature report The Legal Intelligencer newspaper's Senior Staff Writer Gina Passarella interviewed family law attorneys Lynne Gold-Bikin of Weber Gallagher Simpson Stapleton Fires and Newby, Julia Swain with Fox Rothschild, Julie Auerbach of Astor Weiss and solo practitioner Lee Schwartz.
About The American Law Journal
The American Law Journal broadcasts Monday evenings to the tri-state Philadelphia metro area. All programs are available at http://www.LawJournalTV.com. The program is celebrating twenty-five years on the air and has been hosted by former New Jersey prosecutor and trial attorney Christopher Naughton since its first program in 1990.
Naughton and the program's producers won an Emmy for the program "Sexual Orientation, LGBT & the Workplace: ENDA of Discrimination?" in the Interview/Discussion category of the 2015 Emmy Awards in the Mid Atlantic chapter of the National Academy of Television Arts & Sciences. The program was also nominated in three other categories, including one for this child custody program.