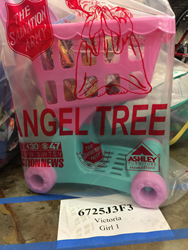 The community knows that this program is near and dear to our hearts
Jacksonville, Florida (PRWEB) January 01, 2016
Jacksonville, FL Ashley HomeStores have been the cornerstone of the Salvation Army's Angel Tree initiative for six years running, resulting in happy holidays for 4,000 Jacksonville-based children in 2015. This year, Angel's flew from Ashley's trees faster than ever, with the stores calling for refills after only 48 hours of being on display.
"The community knows that this program is near and dear to our hearts," said Ashley HomeStore-Jacksonville CEO Howard Fineman. "They've come to expect that we will have our trees up early and will take great care with the gifts they return for the children. It makes us very proud that our customers and guests immediately associate Ashley with Angel Tree."
Angel Tree is the Salvation Army's program that empowers the community to purchase gifts anonymously for children in need during the holiday season. Ashley HomeStore devotes showroom space for the "Angel Trees" so that guests can choose their Angels. The HomeStores then store bags and bags of gifts until the Salvation Army picks of the gifts for distribution. Ashley is the organization's largest distributor of Angels in North Florida.
"The Salvation Army's Angel Tree program is able to touch the lives of so many children and families in our community every year because of our stalwart partner Ashley HomeStore," said NEFLAC Salvation Army Major Rob Vincent. "Over the last six years their support has included an extremely valuable media presence through Action News, donations of furniture and other essentials to people who desperately need them, and has resulted in more than 30,000 children having a brighter Christmas than they otherwise would have had. To say that we are grateful for Ashley HomeStores would be an understatement."
According to Fineman, it's more than the showroom display and financial support that makes a difference.
"Our team is incredibly involved and motivated by Angel Tree, even volunteering at the Salvation Army Toy Shop to help organize and distribute gifts to families." said Fineman. "I believe that resonates with the community, and even though we do a lot throughout the year with many other organizations, the amount of lives that are touched by this incredible anonymous giving program is the real gift to us all and why we continue to be involved."
Combined with St. Augustine, Clay County and Nassau County, NEFLAC Salvation Army Angel Tree program reach a record 5,169 individuals in 2015. For more information or to register as a recipient for the 2016 Angel Tree program, contact the Jacksonville Area Command at 904-301-4875.
Ashley Furniture HomeStore is the #1 furniture and mattress retailer in America and the #1 selling furniture store brand in the World. Locally, Ashley Furniture HomeStores has four convenient locations (St. Johns Town Center, River City Marketplace, Orange Park @ I-295, and Glynn Isles Market (Brunswick GA)). The retailer is an exclusive provider of furniture from Ashley Furniture Industries, Inc. (Ashley), the largest furniture manufacturer in North America. For more information on Ashley Furniture HomeStore and our products, visit our website at http://www.AshleyFurnitureHomeStore.com.
If you would like further information, photography/video, or to set up on or off-camera interviews please contact Tori Benjamin at tbenjamin(at)ashleyjax(dot)com or at 904-217-7367.