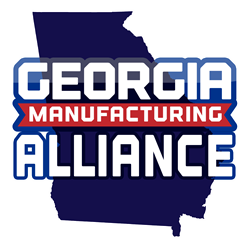 GMA members said that 2015 was a very productive year and 2016 will be even better.
Atlanta, Georgia (PRWEB) December 31, 2015
Georgia Manufacturing Alliance (GMA) had a productive year in 2015. Many members recently shared how much they enjoyed being part of the 73 GMA events we hosted this year. Although testimonials haven't been received from all of the 1,500 attendees, many people complimented the variety of formats that were offered - including factory tours, educational sessions and networking events.
"GMA is in an aggressive growth mode and has been developing new chapters around the state. Currently there are four chapters including Northwest, Gwinnett, Northeast and Coastal. The organization plans to launch two additional chapters in 2016. By focusing on mid-market manufacturers, GMA has identified programs that are needed, and that are not currently being provided." Said Jason Moss CEO of GMA
The inaugural Georgia Manufacturing Summit was held at the Cobb Galleria on November the 18th. GMA had over 300 manufacturing leaders who gathered to network and learn from other industry experts. Great reviews were received about our keynote presentations provided by top executives from KIA and Blue Bird Corporation. By all accounts, the summit was an overwhelming success.
This year GMA created the Joint Industry Association of Georgia(JIAG) to stitch together professional associations in Georgia with a manufacturing focus being the common thread. SME, APICS, GEA, IoPP and NDIA have joined JIAG. These organizations are committed to working together to support Georgia's manufacturing community.
Another project that has received quite a bit of praise is the Georgia Manufacturing Calendar. This resource was developed to help busy professionals in the manufacturing community quickly locate and register for training sessions, manufacturing plant tours, networking events and trade shows in Georgia. Users can access a combined calendar from the five JIAG associations to get a snapshot of all of the important manufacturing events in Georgia.
GMA is funded through membership fees and sponsorship. Current top level sponsors include, Smith and Howard, Snellings Walters, Peach State Federal Credit Union and Manufactured Assemblies Corporation.
GMA is on a mission to "Support Georgia's Manufacturing Community"
GMA has added several new member benefits in 2015 that include:

Huge discounts on freight and package shipping through UPS
A discounted NOWaccount that saves members $470 the first year and $420 per year after that
PeachState Credit Union Membership
A listing in the online and printed Georgia Manufacturing Directory
Check out the founder's recap of the year Watch Now
To learn more about membership, sponsorship or participating in events, visit http://www.GeorgiaManufacturingAlliance.com