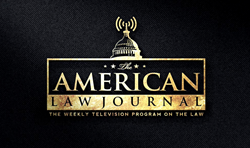 "We're not making a new protected class," says EEOC attorney Mary Tiernan, "This ruling determined that discrimination based on sexual orientation is inherently based on sex."
Philadelphia, PA (PRWEB) December 31, 2015
The American Law Journal celebrates 25 years on the air examining "Transgender on the Job: How the EEOC and Gay Marriage is Impacting LGBT Rights at Work." Host attorney Christopher Naughton welcomed to a panel discussion employment law attorneys Anthony Haller, Esq. of Blank Rome, Angela Giampolo, Esq. of Giampolo Law Group, Scott Goldshaw, Esq. of Salmanson Goldshaw PC, and Program Analyst for the EEOC Philadelphia Office Mary Tiernan, Esq.
A recent controversial EEOC Ruling concludes that discrimination based on sexual orientation is prohibited under Title VII.
"We're not making a new protected class," said EEOC attorney Mary Tiernan on the program. "This ruling determined that discrimination based on sexual orientation is inherently based on sex."
Counters corporate counsel Anthony Haller "a government agency that does not represent the people... are making law. I doubt you are going to find a lot of courts siding with the EEOC decision."
In an opening feature report The Legal Intelligencer Newspaper's Senior Staff Writer Gina Passarella interviews State Representative Brian Sims (D) Pennsylvania, employment law attorney Shannon Farmer, Esq. of Ballard Spahr LLP, and Thomas Ude, Esq. Legal and Public Policy Director of the Mazzoni Center.
David Baldwin v. Dep't of Transportation, EEOC Appeal No. 0120133080 (July 15, 2015)
About The American Law Journal
The American Law Journal is the weekly talk-feature television program airing Monday evenings on the CNN-News affiliate for Philadelphia WFMZ-TV 69. All programs are available at http://www.LawJournalTV.com.
The program won an Emmy for the program "Sexual Orientation, LGBT & the Workplace: ENDA of Discrimination?" in the Interview/Discussion category of the 2015 Emmy Awards in the Mid Atlantic chapter of the National Academy of Television Arts & Sciences. The program was also nominated in three other categories.