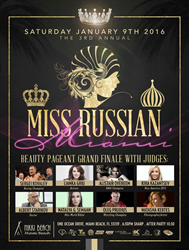 Now in our third year, this annual event has outgrown the Russian community to become the best all around beauty pageant in South Florida and we don't even have Steve Harvey!
Miami Beach, FL (PRWEB) January 05, 2016
Some of the most beautiful women in the world claim Russia as their birthplace. The Miss Russian Miami Beauty Pageant 2016 will feature eleven of the most beautiful Russian women competing for the title and over $75,000 in prizes. The winner of the pageant will earn a $25,000 Modeling Contract and a chance to go to Malta, where she will compete to become Miss World Bikini Model 2016. All contestants have worked extremely hard to make it to the grand finale, and regardless of who wins, they will each get a chance to strut their stuff in front of our international celebrity judges and an upscale crowd in this one of a kind show production at the one of a kind Nikki Beach in South Beach.
In addition to the beauty pageant, Kirov Ballet, Ro-Mina and many other highly entertaining acts including special guest, superstar international comedic actor and singer Aleksandr Revva, will delight the crowd with stunning performances throughout the night. The event helps promote cultural awareness and community involvement here in South Florida, where the Russian community is over 250,000 people strong. Miss Russian Miami not only strives to produce the best beauty pageants in America, but also to help the less fortunate by giving a portion of their sales to charity. A portion of the proceeds from each ticket sold will be donated to Memorial Sloan Kettering Cancer Research, the world's oldest and largest private cancer center.
The competition is judged by celebrities and experienced professionals in pageantry, entertainment, fashion and cosmetic industries. The diverse jury that will decide who will take the crown this year and be tasked to uphold the Russian image of true beauty and intelligence have been hand-picked to provide the fairest outcome of the competition. They include:

Undefeated Boxing World Champion- Sergei Kovalev
Miss America 2015- Kira Kazantsev
Winner of World Bikini Model 2010- Natalya Gazha Semaan
Film Actress- Lianka Griu
Former UFC and Kickboxing Champion- Alistair Overeem
President of Miss USSR UK- Julia Titova
World Renowned Photographer- Natasha Kertes
Former WWE Champion and Film Actor- Oleg Prudius
Sponsored by Fashion TV, Love Caviar, InList, Kartina TV, Allure Rejuvenation, Danu Radio, Sergei "Krusher" Kovalev, and Nikki Beach.
About Miss Russian Miami: The Miss Russian Miami Beauty Pageant was the vision of founder Andrei Kapylou. Miss Russian Miami is committed to excellence in pageantry and operated by those who believe in healthy competition, that promotes individuality, confidence and overall achievement among all contestants. It is an organization devoted to promoting the sophisticated, ambitious, and beautiful woman of Slavic descent living in America. "We are committed to promoting the diversity of the Russian community here in America, we believe that all women are beautiful, inside and out and deserve a chance to express themselves and what better way to become visible in the community than with a title worthy of her representation."
Miss Russian Miami in no way claims affiliation with the Miss America Organization, Mrs. America Pageant, or Miss Teen American Pageant.