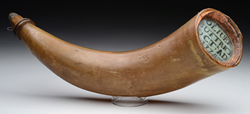 Fairfield, Maine (PRWEB) January 04, 2016
It's time to launch the 2016 auction season with the premier event of the winter - James D. Julia's annual February Fine Art, Asian & Antiques sale to be held on February 3rd-5th, 2016. The sale offers an astonishing selection of fine, decorative, and nautical art; antiques and Asian articles; historical items; and many remarkable, one-of-a-kind treasures as well.
Day one kicks off with over 250 lots of outstanding paintings and sculptures. A museum quality selection of American and European works, bronzes, and prints are on offer.
Phenomenal American highlights include Martin Johnson Heade' deeply symbolic Roman Newsboys II (estimated at $200,000-$400,000); John Singer Sargent's Donkeys in Desert, Morocco, 1880 (estimated at $150,000-$250,000); and a pair of Howard Terpning paintings including Spring Came Early (estimated at $125,000-$175,000) and Searching the Mountains, estimated at $100,000-$130,000. Both Terpning paintings are from the Norman Flayderman collection and are inscribed by the artist to Mr. Flayderman. A fresh-to-the-market abstract painting from German American artist Hans Hofmann, simply dated '42, is colorfully estimated at $100,000-$150,000.
Julia's is internationally recognized for its expertise in Rockport School paintings as well as works featuring Maine artists and themes. Enthusiasts will delight in this sale's selections of both. Several Aldro T. Hibbard paintings are on offer, with the artist's impressive Canadian Rockies, estimated at $15,000-$25,000, at the summit. Emile A. Gruppe's peaceful Gloucester Morning, featuring several fishing vessels in port, is estimated at $10,000-$15,000. Top Maine picks include a an interior scene of two women arranging flowers by Abbott Fuller Graves (estimated at $10,000-$15,000); Walter Schofield's Coast of Maine (estimated at $17,500-$22,500); and an outstanding Waldo Peirce painting of children frolicking with wild animals, estimated at $8,000-$12,000. This charming and playful example is dedicated to Ninette Blanc and comes with full provenance.
Day one also includes a robust selection of other fine works, including Old Masters. A portrait of a gentleman by Johann Baptist Lampi the Younger will have hearts aflutter with its $20,000-$30,000 estimate. And collectors will no doubt take a double look at an important recent discovery of a bronze attributed to Edvard Munch and signed "E Munch." Titled Sostrene, this never-before-seen sculpture depicts two women's heads - possibly the Meissner sisters, Olga and Rosa. This Munch mystery is estimated at $30,000-$60,000.
Auction day two features over 650 lots of outstanding American and European antiques, furniture, and accessories at center stage. There is truly something for every collector amongst these top-tier and expertly cataloged selections.
This auction offers a fantastic array of decorative and functional items, including a comprehensive selection of extraordinary tall case clocks. Up to the minute highlights include a Cherry Wood Queen Anne Clock by Jeduthan Baldwin (estimated at $30,000-$50,000); a Simon Willard Clock with a painted moon phase dial (estimated at $20,000-$30,000); a Thos. Harland Clock (estimated at $15,000-$25,000); and two Peregrine White Clocks, each estimated at $12,000-20,000.
This auction presents a royal selection of Queen Anne furniture in extraordinary condition. Items worthy of a crown include a magnificent Connecticut Cherry Tray Top Table (estimated at $30,000-40,000); Six Walnut Balloon Seat Side Chairs (estimated at $20,000-$30,000); a Maple Flat Top Highboy (estimated at $15,000-25,000); and a Cherry Dressing Table, estimated at $15,000-$20,000.
Period Chippendale furniture also makes a regal appearance. Highlights include a Ball and Claw Foot Tilt Top Tea Table (estimated at $12,000-$15,000); a Newport Mahogany Corner Chair (estimated at $10,000-$15,000); and a set of Six Chairs, estimated at $8,000-$12,000. And for enthusiasts with an appetite for a room's worth of matching furniture, a sixteen piece, heavily carved Alexander Roux Oak Dining Set (estimated at $25,000-$35,000) and a thirteen piece Roberta Schilling Decorated Mid-Century Dining Set, estimated at $20,000-$25,000, are worthy of several Michelin stars.
Nautical art as well as historical objects are both significant categories in this upcoming sale. It's all hands on deck with an unsigned 19th Century Ship Portrait, (estimated at $20,000-$30,000); Solon Francis Montecello Badger's Portrait of the Schooner Bessie C. Beach (estimated at $8,000-$12,000); and Antonio Jacobsen's Three Master Schooner In Full Sail, estimated at $8,000-$10,000. For collectors who prefer their acquisitions have a distinctly historical context, a Washington Family Silk Embroidery with provenance (estimated at $18,000-$22,000); and an 18th century Silver Ornamental Indian Tomahawk, estimated at $15,000-$20,000, will all stand the test of time.
Many important selections featured in the second day of this sales event are from the estate of Siro R. Toffolon. Toffolon was born in Meriden, CT in 1932. Following his graduation from Wilcox Technical School in 1951, he went to work for the International Silver Company, where he worked as a designer of silver flatware for almost four decades. In the 1970s, he created silver flatware patterns for Gorham, Reed and Barton, Stanley Roberts, Ginkgo, and Lunt. He designed over 450 silverware patterns over the course of his career. His other professional achievements included designing clocks for Seth Thomas, jewelry for Krementz, and firearms for the Remington Arms Company. Toffolon had a fantastic eye for Revolutionary War-era objects, clocks, silver, and furniture manufactured in Connecticut and New England. The Toffolon collection includes many spectacular highlights, one being a pair of marked coin silver spoons made by silversmith and patriot, Paul Revere. These are estimated at $8,000-$12,000.
One remarkable lot from this sale will truly catch the eye of historians and museums across the globe. It is a Revolutionary War powder horn, possibly one of the most significant Revolutionary War relics to come to market in decades. Estimated at $20,000-$50,000++, it is one a several Revolutionary War era objects - many from the Toffolon collection - to go under the hammer on February 4th, 2016.
This extraordinarily important powder horn belonged to Oliver Buttrick. Buttrick was one of the minutemen who stood their ground in Concord, Massachusetts on April 19, 1775 to face the might of the British Empire. Young Buttrick was present with seven other family members, including his uncle, Major John Buttrick. The militia, alerted by people like Paul Revere, mustered at the Concord Bridge to confront the British. This historic engagement created "the shot heard round the world," and catalyzed the military actions against the British Empire that eventually led to this country's freedom.
The confrontation at the Concord Bridge is unquestionably the most important battle in the annals of US history. To our knowledge, the Buttrick Colonial powder horn is the only artifact from that engagement that has surfaced in decades. It is altogether fitting that Julia's presents this powder horn from the very first engagement of the Revolutionary War. A few years ago, Julia's sold a cartridge pouch worn by one of the British Regulars killed on the return to Boston from Concord. But more importantly, they also handled one of the last great historic relics of the Revolutionary War, a special hand-drawn map done by George Washington's personal cartographer. It was an exact copy of a larger version his cartographer had prepared to send to the Continental Congress after the British defeat. After a very heated bidding battle, Julia's sold this very map for over a million dollars!
Collectors wanting to catch wind of a great offering of weathervanes don't need to look any further than this exciting sale. Key selections include a 19th century, 52" high Monumental Full Bodied Fireman Weathervane, probably by Mott of Chicago, IL (estimated at $125,000-$175,000); an all original Steeple Chase Horse Jumping Over a Gate Weathervane (estimated at $60,000-$90,000); a Hollow Molded and Gilt Copper Grasshopper Weathervane (estimated at $35,000-$45,000); and a Game Cock Weathervane, estimated at $8,000-$16,000.
Although one lot in this sale is modern, it does have a great legacy based upon a mishap almost a century ago. Stamp collectors are familiar with the story of the "inverted Jenny" biplane stamp from 1918. Today, these are amongst the rarest and most famous stamps issued by the U. S. Postal Service. This stamp was rushed into production to celebrate the first airmail flight. In May 1918, a single page of 100 stamps was sold to William T. Robey, a cashier from Washington, D.C. He purchased the only misprints of this stamp to fall into private hands. The misprint shows the "Jenny" upside down. Four inverted "Jennies" from this original block of 100 were sold at auction in October 2005 for $2.7 million.
In 2013, the USPS reissued the "misprinted" inverted Jenny stamps in an edition size of 2.2 million sheets to commemorate this historical gaffe. But in a marketing twist, the USPS secretly produced 100 sheets of the Jenny stamp right side up, creating a "misprint " of the original misprint. To date, of the 2.2 million sheets produced, approximately half have been sold and only 24 "non-inverted" stamp blocks have been found. The USPS later admitted that creating the 100 sheets of right side up Jenny stamps broke important rules and protocol. In addition, the USPS held back 23 "non-inverted" sheets for later distribution. Given the controversy, these 23 additional sheets may never be distributed - meaning that only 77 "non-inverted" sheets will ever be in circulation. Julia's will be selling the 24th sheet found of this rare modern issue; it was purchased in Waterville, ME in September 2015. This profoundly rare sheet of non-inverted Jenny Stamps with a certificate of authenticity From the USPS is estimated at $40,000-$60,000.
Other fine categories featured during the second day of this comprehensive sale include rugs, stoneware, accessories, antique silver, and Object d'Art, among many others.
The third and final day of Julia's annual winter auction is dedicated to Asian Art. Julia's is the go-to auction house in the United States for remarkable pan-Asian treasures including furniture, sculptures, paintings, jewelry, cloisonné, jades, and porcelain. Day three features over 450 fine Asian items, and again confirms Julia's as a leader in these categories. These spectacular treasures have been inspected and cataloged by Julia's new team of Asian art experts. They include Anthony Wu, the Former Asian Art Department Head at one of Canada's largest auction houses, and Joshua Chamberlain, a leading east coast Asian dealer and expert with a vast general knowledge of Asian items with great emphasis on fine porcelain.
Julia's is pleased to present a number of remarkable items from the collection of Dr. Helga Wall-Apelt. Museum quality items on offer include an 800 Piece Collection of Rare Asian Photographs (estimated at $200,000-$400,000); a Monumental and Extremely Rare Pair of Cast Iron Buddhist Lions (estimated at $50,000-$75,000); a Mottled Jade Carving of a Carp (estimated at $15,000-$25,000); and a Pair of Massive Screens with Landscape Designs, estimated at $20,000-$35,000.
Scrolls, artwork, and thangkas are featured prominently during day three of this sales event. Outstanding Asian works on paper, linen, and silk include a 17th century hand scroll Raising The Alms-Bowl: The Conversation of Hariti The Mother of Demons (estimated at $15,000-$20,000); a c. 18th century Tibetan Painting of Five Mandala of Yama Dharmarja Buddhist Protector (estimated at $8,000-$12,000); and a Finely Painted Thangka of Eleven-Headed Avalokiteshvara, estimated at $8,000-$12,000.
Julia's selection of decorative items, jades, porcelains, and cloisonné objects offered on the final day of this sale are truly in a class by themselves. Asian arts enthusiasts will find their cups running over in regards to this auction's finely carved large Rhino Horn Scholar's Landscape Cup. This 17th century rarity depicts multiple scholars painting, drinking tea, and reading poetry, all underneath a canopy of pine amidst a mountainous backdrop. It is estimated at $25,000-$35,000. Fine jade selections include a broad range of pendants, carvings and snuff bottles. A large He Tian Jade Pendant (estimated at $25,000-$35,000) and a Jade Buddhist Monk with a Begging Bowl, estimated at $15,000-$25,000, will have competing bidders seeing green. Porcelain highlights include a Famille Rose Plaque depicting Zhong Qui's sister being led by a demon to her wedding (estimated at $20,000-$30,000) and a Republican period Highly Unusual Carved Black and White Vase, estimated at $6,000-$8,000. And collectors will certainly color their worlds with this auction's great selection of cloisonné treasures - with a pair of Monumental Gilt Four Part Censers burning things up with their $12,000-$15,000 estimate.
Bronzes represent the last, but hardly least, of the wonderful Asian lots in this sale. This event offers collectors a variety of bronze censers, Buddhas, vases and other traditional and ritual items. Heavy hitting highlights include a Finely Cast Bronze Model of A Foo Lion and Cub (estimated at $7,000-$10,000); a Standing Figure of Amitabhu Buddha (estimated at $6,000-$8,000); and a Japanese sculpture of Perched Peasants, estimated at $2,000-$4,000.
This event will host its preview on February 2nd from 9am-5pm and February 3rd-5th from 8am-10am. The auction will be held on February 3rd-5th, beginning at 10am each day at Julia's facilities at 203 Skowhegan Road in Fairfield, Maine.
More information on James D. Julia's outstanding three day Winter Fine Arts, Asian and Antiques auction, as well as the full catalog, can be found online at http://www.jamesdjulia.com. This auction is fully documented in two lavish, full-color, detailed, and illustrated print catalogs; they are available for $40 each or both for $75. In addition to pre-bids, telephone bids, and in-person bids, James D. Julia accepts bids via Invaluable.com. Bill Gage, Tony Greist, and Katya Tilton welcome your questions and inquiries; they can be reached at antiques(at)jamesdjulia(dot)com or by calling 207-453-7125.