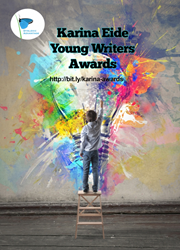 Incredible opportunity to encourage students with dyslexia
Seattle, WA (PRWEB) January 04, 2016
Dyslexic Advantage, a leading charitable organization dedicated to the education and support of individuals with dyslexia, is pleased to announce the official opening of the 2nd Annual Karina Eide Young Writers Awards, a competition open exclusively to students with dyslexia. Students from public and private schools and homeschooling students are all welcome.
Cash prizes and honorable mentions will be awarded to student entrants who demonstrate creativity and excellence in writing. All styles and genres are welcome, including fan fiction, short stories and poetry as well as chapter excerpts from longer works. Non-cash prizes, including certificates of special recognition, will also be awarded.
Unlike other writing competitions, submission to the Karina Eide Young Dyslexic Writers Awards will not be judged based on spelling or grammar. Rather, entries will be evaluated on the basis of creativity, humor, storytelling ability and other aspects of quality writing. Entrants are allowed to either type their works or dictate them, whichever they prefer.
The competition is open to all US students ages 7 to 17 who have been identified as being dyslexic. An estimated 15-20% of the population is currently dealing with the impact of dyslexia to varying degrees.
"At Dyslexic Advantage, our mission is to help recognize and encourage the talents and strengths that come from this amazing community, " comments the organization's co-founder, Dr. Fernette Eide. "Our Karina Young Writers Awards helps us celebrate young dyslexic writers' creativity and encourage greater expression without the restraints of conventional writing competitions."
All entries must be submitted no later than January 21st. Winners will be announced on March 15th. To learn more about the awards or to submit an entry, please visit:
Contact:
Fernette Eide M.D., Co-Founder
Dyslexic Advantage
Voice Phone: 1-800-757-8310 x 705
Fax Number: 425-609-0050
Email: drseide(at)dyslexicadvantage(dot)org
Website: http://dyslexicadvantage.org