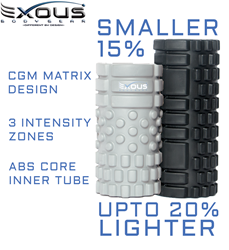 We can confidently say that the Performance Myofascial Foam Roller will give you the best soft tissue massage and trigger point release in the foam roller market, Just try it and feel the difference for your self. - Mannie Kaur, Brand Manage
Chicago, IL (PRWEB) January 04, 2016
Athletes and sports enthusiasts will benefit from the new features and design of the Performance Myofascial High Density Foam roller in the following ways; the Continuous Grid Matrix Pattern [CGM] allows the individual to roll the full length of any muscle without the restricting alternating grid pattern associated with generic foam rollers, this means you can now warm up a muscle much like a manual therapist would do pre-exercise or flush out toxins post workout. With the Extra high density EVA foam combined with the unique 3 zone intensity system the performance foam roller gives you 3 distinct levels of massage therapy.
From a flat palm like sensation using 'zone1' to a true finger like pressure massage effect using zone 2, which has been designed to allow deep tissue release into areas such as the forearms and also aid in shin splints and trigger point release work around any muscle area. Because the EVA foam is 3 times firmer than generic soft foam rollers you need less body weight and effort to illicit a massage effect. The final zone 3 is a very intense grid pattern design to mimic the surface area and pressure exerted by a massage therapists thumb. Individuals can use this zone to get very deep trigger point release work for stubborn knots deep within the muscle belly with a significantly less effort needed. The design is around 20% lighter and 15% smaller than conventional foam rollers, saving space and weight for any budding athletes and serious sports enthusiasts that like taking their rollers with them
"As a professional Athlete for over 20 years and two time Olympian I've used many foam rollers and massage devices over my career. The Performance Myofascial roller offers a much deeper tissue massage and excellent trigger point release, It's as close to a manual massage that a therapist can give for a self rolling device. The lighter and smaller design is going to be a welcomed accessory for any serious athlete or sports enthusiast."Nick Buckfield Olympic Athlete and former British Record Holder Pole Vault said.
The Performance Myofascial Roller is launching exclusively on amazon.com in the US. At 620g in weight a saving of around 20% and is 11 inches tall by 5 inches in diameter giving a 15% total smaller footprint compared to 13" foam rollers. The 3 grid zones are all the average width of a palm to get the same massage surface area so there is a real weight and space saving without any loss of function.
The product comes with online video access within the Exous Bodygear's members area with full HD video instructions on how to use the Performance roller including advanced techniques and exercises which adds more value to the product.
The all new design Grid Foam Roller introduces advanced massage capabilities and practicality into the foam roller market with the following benefits:

A unique Continuous Grid Matrix Pattern [CGM] means you can roll out over the whole muscle length at the same massage intensity, the advantage being that individuals can perform a warming up style massage to the muscle and also flush out toxins post workout much like a massage therapist would do.
Extra High Density EVA foam With 3 times firmer density over generic soft foam rollers means it will require much less body weight effort to achieve a deep tissue massage and much easier trigger point release.
3 Distinct intensity 'zones' for mild, medium and firm type pressure comparable to the same level of force applied using palm, fingers and thumb like sports massage.
Smaller by 15% and lighter by up to 20% over standard 13 inch generic foam roller models gives athletes and enthusiasts even more practicality when taking the foam roller with them.
Constructed from strong and lightweight ABS material for the inner tube instead of heavier and more brittle PVC.
Founder of EXOUS Bodygear says that sales have taken a dramatic increase since the foam roller you tube video was uploaded recently. Amazon shoppers can enjoy a 45% discount starting Monday 4th January for the next two weeks.
About EXOUS Bodygear
EXOUS Bodygear not only make the all new foam roller but are a sports and fitness brand dedicated to making high quality functional products that meet the needs of the consumer. Our brand ethos is "different by design" we love making new and exciting products that have been designed to offer more function, features and value to what is in the market place already.
You can learn more about our range of products by visiting our amazon stores in both the US, UK Germany and France or our website