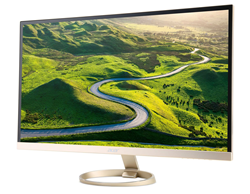 The Acer R1 series monitors with ultra-thin enclosures under 7mm are ideal for everyday computing in any space.
LAS VEGAS (PRWEB) January 04, 2016
Editors' Summary

Acer R1 series, world's thinnest monitors with under 7mm thickness and a ZeroFrame design, maximize the viewing area
Acer H7 series, world's first USB Type-C monitors for fast data transfer, displaying and charging functions; boasts built-in 100 percent sRGB color gamut technology
Acer XR342CK sports a curved UltraWide QHD (3440x1440) display with 100 percent sRGB gamut technology and 6-axis color adjustment for a perfect picture; base can swivel from -30 to +30 degrees
All monitors reduce eye strain through Acer EyeProtect technology and provide outstanding color performance thanks to IPS panels supporting 178-degree wide viewing angles and Acer ColorPlus
Acer today announces the latest additions to its monitor lineup – the R1 series, H7 series and the XR342CK. All new monitors are produced with premium design and high-end performance in mind for stunning images and color capabilities. Featuring IPS1 panel technology, the Acer displays ensure clear-cut details across 178-degree viewing angles and supreme color consistency across the entire screen, enabling users to explore their gaming worlds and watch movies in all their glorious colors without compromising on speed/lag.
Acer R1 Series – World's Thinnest Monitor Enclosure Under 7mm, Perfect for Everyday Computing
The Acer R1 series monitors with ultra-thin enclosures under 7mm are ideal for everyday computing in any space. The stylish ZeroFrame design maximizes the view and minimizes visual clutter with a bezel so thin you barely notice it, providing a seamless viewing experience for multi-monitor setups.
Combining Acer Flicker-less and Blue Light Filter technologies with 5 to 15 degree adjustable tilt, the R1 series is easy on the eyes, providing a comfortable viewing experience. Green credentials feature EcoDisplay and ENERGY STAR 6.0 certification as well as mercury-free construction. The R1 series boasts Full HD (1920 x 1080) resolution and will be available in 21.5-, 23-, 23.8-, 25- and 27-inch screen sizes.
Acer H7 Series – World's First USB Type-C Monitors
The Acer H7 series monitors are the world's first to support USB Type-C, so that users can conveniently transfer data and display content from notebooks or smartphones, while charging them at the same time through just one cable. With a premium ZeroFrame design, diamond-cut and brushed-metal stand, the Acer H7 series models are offered in 25-inch and 27-inch options. They also boast WQHD (2560 x 1440) display resolution, superior audio with Acer TrueHarmony and DTS™ Sound and come outfitted with super-fast USB Type-C and HDMI 2.0 ports. These features immerse the user in beautifully portrayed high-resolution content for the home or office.
The H7 series supports 100 percent of the sRGB color gamut, delivering the color space reproduction desired by design professionals and visual enthusiasts for accurate color matching across applications and print output.
Acer XR342CK – New Angle in Entertainment
Acer's next generation XR series, the XR342CK monitor with an UltraWide QHD (3440 x 1440) resolution and a 34-inch 21:9 panel with a 1900R curvature and 100 percent of the sRGB color gamut, delivers immersive, picture-perfect visuals. Special features like 6-axis color adjustment and DTS® Sound deepen the audio/visual impact, while a customizable ambient light at the lower edge of the monitor provides lighting effects that match the desired mood. The PIP/PBP and daisy-chain modes allow users to take their productivity to a new level, and the base can swivel from -30 to +30 degrees, allowing users to easily adjust the monitor to their desired viewing angle.
The XR series features AMD FreeSync™ technology, which ensures variable refresh rates for a smooth, tear-free experience in gaming and video playback.
Pricing and Availability
In North America, Acer R1 series prices will start at $129.99 with availability in Q1 and the Acer H7 series will be available in February with prices starting at $499.99.
In EMEA, the Acer R1 series will be available in January with prices starting at €139; the H7 series will be available in February with prices starting at €499; and the XR342CK will be available in March with prices starting at €1,099.
The new monitors will be gradually rolled out to other regions. Pricing will be announced in each market closer to availability.
Exact specifications, prices, and availability will vary by region. To find out about availability, product specifications and prices in specific markets, please contact your nearest Acer office or retailer via http://www.acer.com.
About Acer
Established in 1976, Acer is a hardware + software + services company dedicated to the research, design, marketing, sale, and support of innovative products that enhance people's lives. Acer's product offerings include PCs, displays, projectors, servers, tablets, smartphones, and wearables. The company is also developing cloud solutions to bring together the Internet of Things. Acer employs 7,000 people and ranks No. 4 for total PCs globally (IDC 2014). Revenues for 2014 reached US$10.39 billion. Please visit http://www.acer.com for more information.
© 2016 Acer Inc. All rights reserved. Acer and the Acer logo are registered trademarks of Acer Inc. Other trademarks, registered trademarks, and/or service marks, indicated or otherwise, are the property of their respective owners.
All offers subject to change without notice or obligation and may not be available through all sales channels. Prices listed are manufacturer suggested retail prices and may vary by location. Applicable sales tax extra.