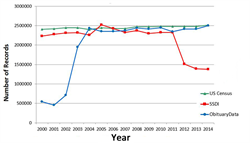 "Who is Deceased - Who They Were and Who Survived Them"
Vero Beach, FL (PRWEB) January 11, 2016
George A David, Chairman / CEO, announced today that 2015 was another record year for growth in Customers, Records and Revenue. The company provided U.S. Death Data to more than 700 customer organizations, including major information service providers that serve tens of thousands of their own customers using ObituaryData.
Mr. David stated "Our Obituary based Data is the most complete and timely source of U.S Death information available. It has replaced the now restricted Social Security Death Master File (SSDMF) as the most important resource for this information. In 2015 our system collected more than twice the number of records as the SSDMF and they include significantly more information."
http://www.ObituaryData.com is the primary business of American Family Archives & Chronicles, Inc. a privately held Corp. founded by Mr. David and partners in Philadelphia, PA in 1999 and relocated to FL in 2004. The business of extracting and digitizing data from published U.S. obituaries began in 2000 and by 2003 was achieving 95% coverage of all U.S. deaths. Systems and technology have evolved and improved every year.The cloud based database now holds over 35 million records. About 6,800 or 98% of all deaths are added every day.
The database can be accessed by four primary services; Online Self Search, Keyword Access, Data Export/API and List Management. The industries served include Education, Fund Raising, Banking, Insurance, Information Services, Collections, Unclaimed Property, Medical Research and many more. The complete range of services are available only through the Company. The website provides extensive detail and includes complete pricing for all of Services.
Customer profiles include the Advancement & Development Departments of Universities who maintain Alumni and Donor lists using Keyword Reports; Insurance Companies locating beneficiaries and survivors through Online Searches, API and Data Exports; Medical Research facilities tracking former patients through List Management.
"We are there for any organization that has a business reason to know who is Deceased - Who They Were and Who Survived Them."