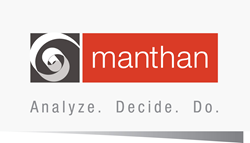 Manthan helps customers deliver the advantages of analytics to every role and function for everyday decision making.
Santa Clara, CA (PRWEB) January 05, 2016
Manthan will showcase its award winning analytics solutions at Booth #3751, at the National Retail Federation (NRF) Convention & Expo. The Expo will be held on January 17-20, 2016 at New York City's Jacob K. Javits Convention Center.
Manthan's packaged analytics solutions for consumer connect industries, along with an innovative 'Switch On' approach, help businesses extend the reach of analytics and boost analytics adoption.
With Switch On, Manthan aims to radically reduce the time to value for analytics investments. Manthan's approach incorporates state of the art Big Data and Cloud technology for new age applications, pre-built multichannel use cases for real-time insights, process automation and an innovative pricing model.
"Manthan helps customers deliver the advantages of analytics to every role and function for everyday decision making. Our products offer the best of enterprise BI along with the ease of scale, cost effectiveness and enhanced data security of cloud solutions. We have also partnered with leading Big Data platform providers to open up new frontiers in customer marketing," said Hillary Ashton, VP Customer Analytics, Manthan.
Drop by booth #3751 or schedule a meeting with the analytics experts, to learn how you can Switch On Analytics in days.
At NRF this year, Manthan will be showcasing :

Retail Analytics, a ready to use, comprehensive analytics solution that blends Enterprise BI and Ad-hoc analysis and is currently used by over 100 retailers across 22 countries.
Retail's first bolt-on Customer Analytics solution for Hadoop, to monetize big data investments with sharper customer marketing.
A unique 1-1 customer engagement solution, TargetOne, which facilitates dialog with customers across all touch points, powered by Advanced Analytics in real time.
Manthan was included in the 2015 Gartner Magic Quadrant for BI and Analytics platforms, and was featured as a top vendor for Tier One retailers in Advanced Analytics. It also secured top ranks in the 2015 RIS Software Leader board and was voted high in ease of installation, Return On Investment and customer satisfaction by Tier One and mid-sized retailers across the board.
Its multi-award winning solutions in retail will be on display through customer success stories, demonstrating reduced TCO, improved ROI and increased customer engagement. Manthan has partnered with Hortonworks, AWS, Altiscale and Tableau among others to bring best in class analytics to its customers across the globe.
Learn more about Manthan's presence at NRF 2016.
------------------------
About Manthan :
Manthan is the Chief Analytics Officer for consumer industries worldwide. Manthan's portfolio of analytics-enabled business applications, advanced analytics platforms and solutions are architected to help users across industries walk the complete data-to-result path - analyze, take guided decisions and execute these decisions real-time. Sophisticated, yet intuitive analytical capability coupled with the power of big data, mobility and cloud computing, brings users business-ready applications that provide on-demand access and real-time execution - the only path to profit in a contemporary, on-demand and connected economy. Manthan is one of the most awarded analytics innovators among analysts and customers alike. To see how your business can gain from analytics, visit manthan.com.
Reach out to Manthan on Twitter, Facebook, or LinkedIn.