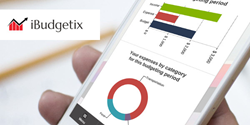 This beta test is an invaluable opportunity to learn from real users in advance of the official release of iBudgetix
Guadalajara, Mexico (PRWEB) January 04, 2016
iBudgetix personal finance software for Android, today announced the launch of a global beta test to gather feedback from real users before the official launch. iBudgetix beta is now available in the Google Play store for free. The new beta version is simple, with this application all users can conveniently manage their personal finance. (http://www.ibudgetix.com)
Gerardo Vivanco, founder and CEO of iBudgetix, comment on the launch: "We're excited to finally unveil our application to Android users. This beta test is an invaluable opportunity to learn from real users in advance of the official release of iBudgetix 1.0. The beta test will run for approximately four weeks. We want to give our users easy and powerful features to achieve healthy personal finances as well as maximum flexibility. After Android, we will soon add iPhone, iPad and Blackberry support.
"Creating, tracking, maintaining, and tweaking a budget isn't easy," said Gerardo Vivanco, founder, iBudgetix. "We empower people of all income levels to accurately plan their futures using its simple and innovative cash forecasting and financial planning app."
iBudgetix was designed to be a simple guideline that users may follow to create a monthly budget, particularly for the first time. Unlike existing applications, it is designed for people who want to optimize their cash flow, and increase savings. A budget is just an estimate of expenses over some period. It helps to determine monthly how much money is still available whenever a monthly spendings limit is close.
iBudgetix helps manage budgets with no effort. It calculates and shows how much money is still available, how much has been saved or overspent. iBudgetix displays largest spendings categories and much more. The only thing user needs to do, is just to add his expenses or income, takes just a second, and can be done at any time.
About iBudgetix
iBudgetix is an independent, privately held startup company headquartered in Guadalajara, Mexico. iBudgetix develops software solutions to help people to achieve healthy financial life. It means having more time for the things that bring happiness and balance into day-to-day life. For more information please visit http://www.ibudgetix.com