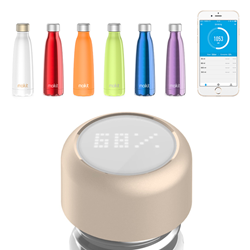 It's such a smart idea. The product is cool!
(PRWEB) January 19, 2016
- Seed provides hydration reminders and tracking, similar to but better than normal smart bottles.
By connecting with mobile apps and wearables, Seed computes users' daily hydration goal based on personal health information. With notifications through both the mobile apps and lid vibration, Seed reminds users to drink water and tracks every drop they drink.

The highly advanced vacuum insulation technique — Seed's promise of long lasting temperature preservation.
By employing copper inlay and nitrogen welding technology, Seed successfully creates a vacuum insulation bottle of the best quality. Equipped with the industry's best stainless steel, Seed keeps the water refreshingly cold for 24 hours or piping hot for 12 hours.
Tap and twist the lid. Seed gives a friendly interactive user experience.
For the first time, Seed allows users to easily interact with a smart water bottle. Touch the interactive LED touchscreen lid for real-time water temperature; twist the lid down for daily hydration progress; twist the lid off for water temperature before drinking. Seed's technology also warns users of dangerously hot or stale water.
Powered by Moikit, every bottle can be smart.
Seed has a global patent for the Air-Elastic water monitoring technology. Instead of typical water volume monitoring systems, Seed employs aerophysics technology to calculate water consumption by measuring the volume of the air left in the bottle. All electrical components required for Air-Elastic are safely contained in the lid, independent of the container body. Therefore, Seed's smart lid technology is compatible with various bottle shapes, functions and materials, including stainless steel, plastic, glass, etc. Powered by Moikit, any water bottle can be a smart device.
Click here and check out Seed's Indiegogo campaign.