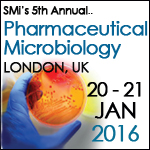 SMi Group's 5th Annual Pharmaceutical Microbiology Event will be retuning to London in 2 weeks
London (PRWEB UK) 5 January 2016
Exclusive speech on Bioburen test by Rapid Microbiological Methods will be given by Francesco Boschi, Microbiological Services Manager, GSK Manufacturing S.p.A. at the day 2 of the SMi Group's Pharmaceutical Microbiology conference. Francesco Boschi will present examples of implementation of new technologies for bioburen test.
Furthermore, Adrianne Klijn, Group Leader Microbiological and Molecular Analytics, Nestle Research Center will discuss new mechanisms of bacterial detection using sequencing mechanism and give an insight into rapid microbiology sequencing methods.
During the pre-conference workshop session, Andrew Bartko, Research Leader, Battelle will present a synopsis of Rapid Microbal Methods options to the industry. The practical aspects of implementation, validation, and regulatory considerations will be discussed.
Those who are interested in attendance – this is now the last chance to secure your place at the show!
Other Key Speakers for 2016 include:
•Thierry Bonnevay, Microbiology Platform Head QC Development, Sanofi Pasteur
•Sabina Lancaster, Senior Manager, Sterility Assurance, Global, QA, GSK
•James Drinkwater, Chairman, PHSS
•Tim Eaton, Sterile Manufacturing Specialist, AstraZeneca
Benefits of attending Pharmaceuticeutical Microbiology 2016 will include:
•An in-depth insight into endotoxin testing, validation and LER
•The threats posed by VBNCs and how to detect them
•Specialist advice on contamination control and risk management to minimise costs and maximise efficiency
•Case studies from across the UK, EU, and USA
Two pre-conference workshops:
Attendees can enhance their experience at the SMi Group's Pharmaceutical Microbiology 2016 with the option of attending two pre-conference workshops. The first entitled 'Spectrometric and Optical Technologies for Microbial Contamination Control' will be led by Andrew Bartko, Research Leader, Battelle. The second workshop that will feature is entitled 'Endotoxin Testing: Hot Topics and New Methods in the European Pharmacopoeia' and will be led by Karolina Heed, Director, Marketing and Sales, Hyglos GmbH.