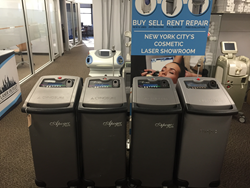 Doctors and medical spas to save thousands adding aesthetic laser treatments to their practice
Los Angeles, California (PRWEB) January 04, 2016
The successful launch of a used aesthetic laser showroom in New York at the end of 2014 created demand for an expansion to the West Coast. Physicians and spa owners are able to visit the showroom in California's Los Angeles and test out fully refurbished used medical lasers. This business model has allowed doctors in New York and the East Coast to save up to 80% when adding cosmetic laser treatments to their practice.
With the cooperation and support from Preferred Depot LLC, NY Laser Outlet was able to streamline the expansion and swiftly enter the market. "We specialize in helping business their operations to the West Coast. With the success in New York, this business model was a perfect fit for us" said Isaac Elkah, CEO of Preferred Depot.
Los Angeles has one of the highest percentages of cosmetic laser centers per capita in the country. The demand for aesthetic equipment by plastic surgeons, medical spas and hair removal clinics is tremendous. These lasers offer services such as hair removal, skin rejuvenation, skin tightening, scar treatments and countless other cosmetic treatments.
"We are thrilled to come and help the doctors based on the West Coast. After seeing how we are able to help the physicians in New York as well as the level of excitement the Doctors have expressed drives my passion to help put a Cosmetic Laser Outlet location in every metropolitan city in the county" said Ari Marom, Founder of NY Laser Outlet.
Cosmetic businesses stand to save thousands of dollars per year on the cosmetic laser repair services offered by LA Laser Outlet. Now business owners can end their service contracts with manufacturers and work directly with LA Laser Outlet with any hand piece or cosmetic laser repair needs.
LA Laser Outlet also offers a financing program to help business owners in the acquisition of additional equipment for business expansion. "We are a one-stop-shop for all cosmetic, medical and aesthetic laser needs" said Ari Marom.
About LA Laser Outlet:
LA Laser Outlet specializes in refurbishment of used cosmetic, aesthetic and medical laser equipment. LA Laser Outlet sells, rents and repairs cosmetic lasers. They are located near Los Angeles and deal with clients both nationally and internationally. Their clients range from plastic surgeons to medical spa owners. LA Laser Outlet focuses on maximizing the profitability of medical offices by increasing the cosmetic procedures they offer while lowering the cost of laser equipment.