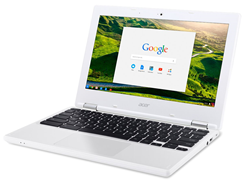 "Acer's position in the Chromebook market is unparalleled because we offer the range of Chromebook products that our customers want – including larger 15-inch displays and convertible models," said Jerry Kao, president of Acer Notebook Business Group.
Las Vegas, NV (PRWEB) January 04, 2016
Editors' Summary:

Nano-imprinted textured aluminum cover provides premium look and feel
Durable chassis design makes this ideal for consumers' busy lives
Up to 9 hours of battery life(1) for all-day productivity, fun with quiet fan-less design
Securely stores data in the cloud for sharing, collaboration; automatic Chrome OS and security updates keep customers safe
Acer today rolls out the newest model in its Chromebook 11 line, now with a more durable design that features a premium nano-imprinted cover matched by solid everyday performance and a portable design that makes it an excellent computing device for anyone on-the-go.
"Acer's position in the Chromebook market is unparalleled because we offer the range of Chromebook products that our customers want – including larger 15-inch displays and convertible models," said Jerry Kao, president of Acer Notebook Business Group. "We know what our customers want most in a Chromebook are the attributes that complement the mobile lifestyle – great performance and a portable design at an excellent value – all this can be found in the Chromebook 11."
According to data from Gartner, Acer Group is currently the world's leading Chromebook brand with over 34 percent market share for the first three quarters of 2015.(2)
Portability with a Premium, Durable Design
The new Chromebook 11 CB3-131's cover is made with a nano-imprinted pattern which gives it a premium look and feel while also boosting durability. The Chromebook 11 has been reinforced like Acer's models for commercial and educational customers to handle extra-stressful environments. It can handle up to 60kg of downward force on the top cover, while the corners can tolerate up to 60cm drops without damage. The reinforced case results in greater resistance to twisting and stress.
The slim and portable form factor makes the Acer Chromebook 11 ideal for use anywhere – at home, school, work and on-the-go. It measures only 0.73 inches (18.6mm) thin and weighs only 2.42 pounds (1.1kg).
The Acer Chromebook 11 has an 11.6-inch display that features non-glare Acer ComfyView, so it limits eye-strain even after long hours of use. The display has a 1366x768 resolution that ensures sharp and legible text as well as vivid, clear videos and photos.
Customers will enjoy video chats on Google Hangouts and capturing crisp, clear photos with the high-dynamic range (HDR) camera. The webcam experience is further enhanced by the two stereo speakers and integrated microphone for top-notch audio and video capabilities.
Solid Performance and All-Day Battery Life
The Acer Chromebook 11 delivers solid everyday performance using Intel® Celeron® quad-core processors. Further contributing to responsiveness and a fast boot time, the Chromebook 11 features 2GB or 4GB of memory and a 16GB or 32GB eMMC storage. Customers on the go will be able to experience all-day productivity and fun since it provides up to 9 hours1 of battery life.(1)
Keeps Customers Connected on the Go
With the fast dual-band 2x2 MIMO 802.11ac Wi-Fi on the Acer Chromebook 11, customers can stay connected and in touch with up to three times faster wireless connectivity compared to 802.11n.(3) The device connects easily to peripherals via Bluetooth 4.0, or the USB 3.0, USB 2.0 and HDMI ports. Customers can transfer files to or from the Acer Chromebook 11 and access media on SD cards with the SD reader.
Acer Chromebook 11 Simplifies Security and Collaboration
Chromebooks are simple to use and ideal for sharing by multiple users. Customers simply log into their own Google account to access Gmail, Google Docs, favorite bookmarks, and other information. Plus, the Acer Chromebook 11 CB3-131 can be used by customers to create, edit and collaborate both on-line and off-line in programs, such as Office documents .
Security is a key benefit of the Chrome OS, as it's automatically updated to guard against ever-changing online threats. Every time Chrome OS boots, it checks the integrity and validity of system files. In addition, user files stored on the device are in a separate partition to keep data secure. Many customers prefer to keep all their files on Google Drive (4) which protects files, documents, and photos safely in the cloud, and ensures that the most current version of the file or document is always available and safe, even if the Chromebook is lost or stolen. In addition, the Supervised Users feature helps get children online in a safe, controlled way.
Pricing and Availability
Several models in the Acer Chromebook 11 line (CB3-131) will be available with either 16GB or 32GB eMMC storage and either 2GB or 4GB of RAM.(5) It will be available in North America in February with prices starting at $179.99, and in EMEA in February with prices starting at €329.
Exact specifications, prices, and availability will vary by region. To find out about availability, product specifications and prices in specific markets, please contact your nearest Acer office or retailer via http://www.acer.com.
About Acer
Established in 1976, Acer is a hardware + software + services company dedicated to the research, design, marketing, sale, and support of innovative products that enhance people's lives. Acer's product offerings include PCs, displays, projectors, servers, tablets, smartphones, and wearables. The company is also developing cloud solutions to bring together the Internet of Things. Acer employs 7,000 people and ranks No. 4 for total PCs globally (IDC 2014). Revenues for 2014 reached US$10.39 billion. Please visit http://www.acer.com for more information.
© 2016 Acer Inc. All rights reserved. Acer and the Acer logo are registered trademarks of Acer Inc. Other trademarks, registered trademarks, and/or service marks, indicated or otherwise, are the property of their respective owners. All offers subject to change without notice or obligation and may not be available through all sales channels. Prices listed are manufacturer suggested retail prices and may vary by location. Applicable sales tax extra.
1.) Battery life may vary depending on usage. Actual battery life varies depending on product specifications, computer settings and applications or features launched. All batteries' maximum capacity diminishes with time and use.
2.) Gartner "Market Share: Devices, All Countries, 3Q15 Update" 13 November 2015.
3.) Based on IEEE 802.11ac draft specification. An 802.11ac wireless equipped computer requires an 802.11ac router to work properly. Actual speed will vary based on range, connection rate, site conditions, size of network and other factors. Up to three times faster comparing 802.11ac with 802.11n.
4.) More information on Google Drive on Chrome devices: https://support.google.com/chromebook/answer/2703646?p=driveoffer&rd=1
5.) Accessible capacity varies: (MB = 1 million bytes; GB = 1 billion bytes)