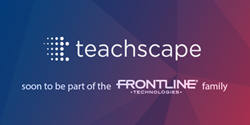 Coupled with the vast experience of the Teachscape team and a shared commitment to K-12 professional growth initiatives, access to the Framework for Teaching made the acquisition an undeniable opportunity for Frontline Technologies.
Malvern, PA (PRWEB) January 05, 2016
Frontline Technologies, a leader in K-12 Education Technology, has signed a definitive agreement with Teachscape, Inc. to acquire the company's products and services. Teachscape is a professional development solutions provider for K-12 and higher education, adding expertise in observation training and assessment, evaluation management, comprehensive learning systems and video based learning tools to enhance Frontline's expanding professional growth and human resources solutions portfolio.
"We are excited about the opportunities to further support educators across the country that come with joining Frontline Technologies' presence in the professional growth area," said Andrew Morrison, CEO of Teachscape.
Through the strategic acquisition of industry leader MyLearningPlan, Frontline Technologies is now building upon a full suite of industry-leading professional development resources, including professional growth management, evaluation, custom learning modules and the ability to assess impact to student outcomes. Developed in partnership with educators and experts, Teachscape's products support the development of instructional practice throughout an educator's career.
The acquisition incorporates Teachscape's instructional practice development solutions into Frontline's professional growth offering. Frontline Technologies will leverage Teachscape's professional growth industry knowledge as well as their unique understanding of and experience with the 2011 and 2013 versions of Charlotte Danielson's Framework for Teaching in order to improve solution development and portfolio breadth.
"Coupled with the vast experience of the Teachscape team and a shared commitment to K-12 professional growth initiatives, access to the Framework for Teaching made the acquisition an undeniable opportunity for Frontline Technologies," said Frontline President & CEO Tim Clifford.
Frontline Technologies remains rubric agnostic with solid partnerships including Stronge and Associates, an educational consulting company that focuses on teacher and leader effectiveness. However, the ability to offer multiple framework options, including Charlotte Danielson's Framework for Teaching, is a distinct advantage for Frontline Technologies customers. Input from Teachscape's sophisticated client base assists in the focus on design and implementation of best practice professional growth processes.
Frontline Technologies offers the broadest-reaching set of solutions in the K-12 education market, providing professional growth and HR software to well over 6,000 school districts nationwide. Frontline's strong and rapidly growing market position is coupled with premier client services and support, featuring a customer retention rate over 97% across all products. This demonstrates that Teachscape's existing customers will receive best in class support from Frontline's award-winning client services team. Frontline's acquisition of Teachscape is expected to close in the next few weeks.
GSV Advisors acted as exclusive financial advisor to Teachscape in this transaction.
About Teachscape: Teachscape combines innovative technology, engaging content and expert services to develop great teachers. From its classroom observation training and technology to its powerful web-based content delivery platform, Teachscape's award-winning products and services have been inspired by its dedication to sparking transformative change in teaching practice. Since 1999, Teachscape has worked with schools and school district, charter networks, archdioceses, universities, and state education departments to measurably and continuously improve the effectiveness of educators to produce gains in student achievement.
About Frontline Technologies: Frontline Technologies provides cloud-based K-12 software that empowers over 6,000 school districts and millions of educators to positively impact student learning. From recruiting, hiring and absence management, to professional learning and evaluation, Frontline partners with the education community to support the entire educator lifecycle. Built on a foundation of best practices, Frontline gives organizations the tools to focus on data-driven decisions, collaboration, meaningful growth and application to classroom practice. Frontline Technologies corporate headquarters are located in Malvern, Pennsylvania, with offices in New York and Chicago.