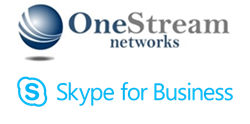 "We are very excited to enable Microsoft customers with OneStream's world-class SIP trunking service"
Rochester, NY (PRWEB) January 05, 2016
OneStream Networks, the leading domestic and international provider of managed and hosted voice, SIP and UC solutions to small, medium and large global businesses, announced today that its SIP Trunking service is now certified compliant with Microsoft Skype for Business for native SIP trunking as well as encrypted TLS and SRTP applications.
OneStream's SIP Trunking service enables enterprises to consolidate and simplify PSTN, local number and Toll Free services, driving reduced cost and simplified management of Skype for Business and IP PBX phone system services in over 65 countries and 8,000 cities worldwide. By leveraging existing or new network environments, businesses can quickly and cost-effectively deploy SIP Trunking services to replace legacy TDM-based trunks. The solution has been tested and certified by Microsoft and is now compliant with Skype for Business and Lync 2013 premise-based applications.
"We are very excited to enable the Microsoft customer and VAR community with a world-class SIP trunking service," stated Brian Skidmore, CMO, OneStream Networks. "Achieving this certification ensures that these customers and partners will be able to better communicate and collaborate worldwide while driving 20%-50% out of communications expense through integration of their Skype for Business infrastructure with OneStream's global SIP network."
Additional Resources
Microsoft OneStream Certification Listing
Microsoft-OneStream Tech Paper
About OneStream Networks
OneStream Networks is purpose-built for enterprise-grade cloud-based SIP trunk, hosted PBX and Contact Center services. With availability in 65+ countries, global strategic peering networks, geo-redundant POPs and multi-provider MPLS transport options, OneStream delivers unparalleled scope and reach for SIP trunking and hosted PBX/UC services. OneStream has become the standard for enterprise customers, VARs, and agents looking to create cost-savings, consolidation, vendor reduction and simplified management for single site and multi-site, multi-national voice applications. Customers and VARs/Agents count on OneStream for certified voice solutions and best-in-class performance, reliability and support. For more information, visit http://www.onestreamnetworks.com.