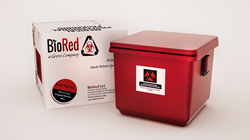 Compliance regulations can be overwhelming. The BioRed Total Compliance Portal has saved my office hours of paperwork and most importantly it helps me stay on top of the latest OSHA regulations.
Houston, Texas (PRWEB) January 06, 2016
BioRed LLC, an innovative regulated medical waste return company, has launched a new website feature called "Total Compliance." Total Compliance is a one-stop educational resource for all OSHA and other regulatory training like BBP, HIPPA, Fire Safety, Electrical Safety, and DoT. In addition to its employee training aspects, Total Compliance allows managers to audit an office or facility to make sure it is in full OSHA compliance, provides a searchable database of more than 207,000 current federal regulations and a library with millions of Material Safety Data Sheets.
Total Compliance provides a full employee management suite of tools, allowing human resource managers to ensure their business is in full compliance and up-to-date with employee training requirements and safety plans. Employees can complete the Bloodborne Pathogens Training and HIPAA training in one or multiple sessions, instantly print a training certificate of completion and receive reminders when it's time to renew training. Managers can complete OSHA-required safety plans in less than one hour and easily edit the plans if there is a change in employees or protocol. Training certificates and other OSHA compliance documents may be stored in the password-protected, secured system and easily organize facilities documents by rooms, stations, floors, or any other identifiable name.
The BioRed 18 Gallon Waste Return System is a simple solution for medical facilities, dental offices, veterinarian offices, and other businesses that deal with hazardous sharps, syringes, needles and other regulated medical waste. With the Waste Return System there are no contracts to sign, instead businesses simply purchase a new United States Postal Service approved collection container which includes a protective bag liner, coded tracking, destruction manifest and a pre-paid United States Postal Service approved return box. Whenever the container is full, it can be sent back to BioRed so businesses can deal with returns on their own schedule instead of a contracted pickup date. The system is very affordable at $190 for an 18-gallon container. There are zero hidden fees – no mileage, fuel, documentation or environmental service charges.
Through the Bio-Red.com website, customers may also purchase essential medical equipment at an affordable price such as nitrile exam gloves, patient and surgical gowns and masks, disinfectants and sterilization test cards.