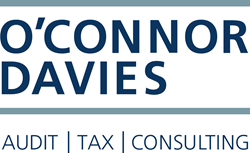 New York, NY (PRWEB) January 04, 2016
O'Connor Davies, LLP, one of the nation's fastest growing accounting and consulting firms, continued the company's impressive growth throughout 2015 by merging with Flackman, Goodman and Potter, LLP ("FGP"). The New Jersey-based accounting firm specializes in transaction advisory services for private equity funds strengthening O'Connor Davies' capacity to advise investors on their merger and acquisition activities. It is the latest move in an aggressive growth strategy from O'Connor Davies that is poised to continue this year as the firm continues to combine talent and resources to address the needs of its increasingly diverse client-base.
"Our growth strategy over the past year sends a strong message that we will continue to invest the necessary resources to deepen our firm's expertise in order to meet the evolving needs of our clients," said O'Connor Davies Managing Partner Kevin J. Keane. "Joining forces with FGP is an exciting next step as we expand our reach across a wide range of business sectors. I'm thrilled to welcome the skilled professionals from the FGP team and look forward to our shared future success."
Founded in 1920, FGP has a long and successful history of providing a full range of audit, advisory and tax services to businesses and individuals. With an expertise in working with closely held businesses and private equity funds, FGP's dedicated teams brings a deep understanding of the particular needs and nuances of these business segments.
"The breadth of O'Connor Davies' expertise and resources was the perfect complement to our practice, enabling us to support our clients and align our firm's priorities and focus," said Jim Madormo, Managing Partner. "We are enthusiastic about the possibilities this creates for our valued clients as we help them navigate an increasingly challenging business landscape."
O'Connor Davies was introduced to Flackman, Goodman and Potter through Joseph Tarasco of Accountants Advisory Group, LLC.
About O'Connor Davies, LLP
O'Connor Davies, LLP is a full service Certified Public Accounting and consulting firm with a long history of serving clients both domestically and internationally. With roots tracing to 1891, nine offices in New York, New Jersey, Connecticut and Maryland, and more than 600 professionals, led by 90 partners, the Firm provides a complete range of accounting, auditing, tax and management advisory services.
O'Connor Davies is ranked number 29 in Accounting Today's 2015 "Top 100 Firms" list and the Firm is also recognized as a "Leader in Audit and Accounting," a "Pacesetter in Growth" and one of the "Top Firms in the Mid-Atlantic." O'Connor Davies is ranked number 29 in INSIDE Public Accounting's 2014 "Top 100 Firms" list and the Firm is recognized as one of the "Top Ten Fastest-Growing Firms." O'Connor Davies is also the 11th largest accounting firm in the New York Metropolitan area, according to Crain's New York Business. By consistently delivering proactive, thorough and efficient service, the Firm has built long-lasting, valuable relationships with its clients. Partners are intimately involved in the day-to-day management of engagements, ensuring a high degree of client service and cost effectiveness. The Firm's seasoned professional staff members employ a team approach to all engagements to provide clients with the utmost quality and timely services aimed at helping them succeed. Continuity of staffing and attention to detail in all client engagements make the Firm stand out among its competitors.
O'Connor Davies is a member of PKF International, a network of legally independent member firms providing accounting and business advisory services in 440 locations in 150 countries around the world. With its tradition, experience and focus on the future, O'Connor Davies is ready to help clients meet today's ever-changing economic conditions and manage the growing complexities of the regulatory environment.