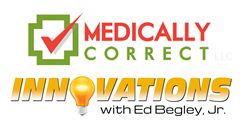 Jupiter, FL (PRWEB) January 06, 2016
Innovations announced today that they will be featuring Medically Correct, LLC, dba: incredibles chocolates in an upcoming episode of Innovations with Ed Begley Jr., airing second quarter 2016 via Discovery Channel. Dates and show times TBA.
This segment of Innovations will teach audiences about incredibles, by Medically Correct. incredibles are edible products made from the highest quality, in house extractions. incredibles are cut within precise weight tolerances, ensuring consistent medicinal effects every time for Medical Marijuana Patients. This is one of the reasons why incredibles have become the favorite edible of medical patients.
"We are honored and excited to be included in the Innovations TV series. We have worked diligently to be on the cutting edge of cannabis technology and it's incredible to be recognized. We now provide the best tasting and most consistent edibles in the Colorado market. We also provide the highest quality extracts under our incredible extracts brand and we manufacture one of the best closed loop systems on the market, the incredible extractor!"
In addition, Innovations viewers will learn about incredible Extracts, which are beginning to hit the shelves of dispensaries across the state of Colorado.
"incredibles produces all of its Marijuana THC Extract in house to make sure it has complete control over the entire process from start to finish," said Robert Sikich, Producer for the Series. "They have perfected the process to consistently make the safest pharmaceutical grade Marijuana THC Extract possible. We look forward to educating the public on the company's offerings."
About incredibles:
Since its inception in 2010, incredibles has gained the attention of many in the cannabis edible market as one of its top leaders. They are the number one infused product manufacturer in Colorado. Known for their infused chocolate bars, their commitment to high quality handcrafted products drives their brand. Every product's dosage is cut to precise weight tolerances to maintain dose accuracy. incredibles oversees the entire production process from start to finish to maintain safety and quality.
With a full line of proprietary based infused THC and cannabinoid rich products, incredibles leads the industry in their home state of Colorado and is expanding nationally. In addition, the company also develops cannabis health and wellness products, conducts licensed proprietary extraction machines, Class 1 Division 1 extraction environment consulting, and standardization methods for the cannabis industry.
For more information, visit: http://www.medicallycorrect.com or contact Bob Eschino at 303-623-6060 or bob(at)medicallycorrect(dot)com
About Innovations and DMG Productions:
Innovations, hosted by award winning actor Ed Begley, Jr., is an information-based series geared toward educating the public on the latest breakthroughs in all areas of society. Featuring practical solutions and important issues facing consumers and professionals alike, Innovations focuses on cutting-edge advancements in everything from health and wellness to global business, renewable energy, and more.
DMG Productions (responsible for creating the Innovations show) includes personnel specialized in various fields from agriculture to medicine, independent films to regional news and more. Field producers work closely with experts in the field to develop stories. This powerful force enables DMG to consistently produce commercial-free, educational programming that both viewers and networks depend on.
For more information visit http://www.InnovationsTelevision.com or contact Robert Sikich at (866) 496-4065 x 805 or via email at Robert(at)InnovationsTelevision(dot)com.