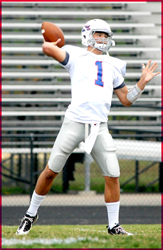 He has been a credit to every team he has played for and because of his work ethic and character, he will continue to make any team he plays for better.
Fork Union, Virginia (PRWEB) January 04, 2016
Fork Union Military Academy alumnus Christian Hackenberg made it official following Penn State's appearance in the TaxSlayer Bowl: he is declaring for the NFL draft in 2016. Hackenberg will join fellow Fork Union Military Academy alumnus Cardale Jones of Ohio State as a potential first round quarterback pick in the draft that begins April 28, 2016. Wide receiver Mike Thomas, Jones' teammate at Ohio State and his roommate during their postgraduate year together at Fork Union Military Academy, has not made his decision at this time whether to return to Ohio State for his senior season, or declare for the NFL draft himself.
Hackenberg was highly recruited during his time at Fork Union Military Academy and received scholarship offers from many top programs. The coach of then national champion Alabama, Nick Sabin, even paid a visit to Fork Union to take a personal look at his top propect. Hackenberg passed on Alabama and other powerhouse programs, however, when he announced his decision to play for Penn State and its new head coach Bill O'Brien in February of his junior year. Then came the news of the harsh NCAA sanctions being levied against Penn State in the wake of the Sandusky scandal. Hackenberg never wavered in his commitment to the program, however. Even when his head coach Bill O'Brien left for the NFL just seven months after Hackenberg's arrival, he stayed with the program. Although his college career has been far from perfect at Penn State, his presence has always made the team competitive and has helped the team recruit other top prospects. In a recent article posted on the ESPN website, sportswriter Josh Moyer described Hackenberg as the quarterback who helped save the Penn State football program following the unprecedented NCAA sanctions.
Cardale Jones came to Fork Union in 2011 as a postgraduate to prepare academically to attend Ohio State University. At Ohio State in 2014, Jones, then a red-shirt sophomore, started the season as the Buckeye's third-string quarterback. By the end of that season, with the top two quarterbacks out due to injuries, the team was suddenly Jones' to lead with a potential national championship on the line. Jones made the most of the opportunity, winning the Big Ten Championship in the first start of his college career and earning the Most Valuable Player award in the victory over Wisconsin. In his second college start, the Buckeyes defeated #1 ranked Alabama in the Sugar Bowl and advanced to face the Oregon Ducks in the national championship game. Jones completed 16 of 23 passes for 242 yards and a touchdown and ran for another 38 yards and a touchdown, leading Ohio State to a 42-20 victory and the national championship. Jones returned to Ohio State for his junior year, despite speculation that he might leave for the NFL following the national championship. Joned shared starting quarterback duties with J. T. Barrett in the 2015 season, and remained undefeated in every game he started. Needing only two classes to graduate, Jones announced in December 2015 that he would enter the 2016 NFL draft.
It is possible that Fork Union Military Academy will see two of its alumni selected in the first round of the NFL Draft, as both Hackenberg and Jones have been touted as potential early picks in the draft. The last time Fork Union had two alumni taken in the first round was twenty years ago when both Rickey Dudley and Eddie George were picked with the 9th and 14th overall picks, respectively, in the 1996 draft. Fork Union Military Academy has had twelve alumni chosen in the NFL draft's first round, beginning with College Hall of Famer Steve Meilinger's selection in 1954.
This year does mark the first time that Fork Union's Blue Devils have had two quarterbacks in the running for first round picks in the same year. In 1997, Virginia Tech quarterback Jim Druckenmiller was selected with the 26th pick. Vinny Testaverde was selected with the 1st overall pick of the 1987 NFL draft, following his Heisman Trophy-winning season with the University of Miami.
In the 2016 draft, at least ten NFL teams enter the draft with potential needs at the quarterback position and with a pool of at least six top college quarterbacks, any or all of whom could rate a first round selection, it is always a bit of guesswork to determine how the draft might play out. Teams' choices are often based not on past performance, but on potential for the future, and intangible qualities such as character and leadership ability often play as great a role in the decision as more measurable attributes and statistics.
It is these subjective criteria that lead Hackenberg's former coach at Fork Union, Micky Sullivan, to rate the young quarterback at the top of his list. Says Sullivan, "Christian is not only an outstanding player, but, perhaps more importantly, he is a fine young man. It has been a pleasure to have had the opportunity to play a role in his development. He has been a credit to every team he has played for and because of his work ethic and character, he will continue to make any team he plays for better."