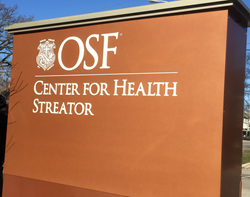 We accept, with gladness, responsibility for the health care needs of Streator residents - Sister Diane Marie McGrew, O.S.F., OSF HealthCare President
Streator, IL (PRWEB) January 04, 2016
OSF Healthcare System has assumed ownership of the St. Mary's Hospital site, 111 Spring St., Streator, previously operated by Hospital Sisters Health System. As of January 4, 2016, the facility is now known as OSF Center for Health - Streator.
A dedication ceremony was held in the center's chapel with Streator city officials, media and OSF HealthCare administration and staff in attendance.
"We accept, with gladness, responsibility for the health care needs of Streator residents, and we pledge to continue the legacy of healing started by the Hospital Sisters of St. Francis 140 years ago," said Sister Diane Marie McGrew, O.S.F., OSF HealthCare President, in her welcoming remarks.
In addition to acknowledging HSHS for its many years of service to the Streator community, McGrew expressed appreciation to the City of Streator and community leaders.
"With the closing of the Streator hospital, OSF HealthCare has taken a proactive approach to work with the city to address state, legislative and regulatory issues, which allows our citizens to receive daily, immediate care and outpatient services, plus 24 hour observation beds and ambulance/helicopter transportation," said Mayor Jimmie Lansford. "The city will continue to work with OSF in their commitment to construct a new state-of-the-art health center and re-purposing of the former hospital building."
Until a new facility is opened, OSF Center for Health - Streator will occupy the former hospital site and offer an array of outpatient services. Laboratory, diagnostic imaging services, outpatient procedures, and rehabilitation services are now available onsite. Physician clinics will transition to the building's third floor, offering access to family and internal medicine providers as well as a cardiologist.
The first floor is dedicated to urgent care services, staffed 24/7 by board-certified emergency medicine physicians. Patients with more severe conditions will be transported by ambulance to the nearest OSF sister hospital should inpatient admission be necessary.
OSF HealthCare is awaiting State of Illinois approval for a stand-alone emergency center. Once final authorization is obtained, the urgent care clinic will transition to a true emergency center.
"The vast majority of health care needs of Streator residents will be taken care of right here in this community," said David Gorenz, MD, OSF HealthCare Regional CEO, in explaining the increased focus on prevention, screening and diagnostic services which will lessen the need for inpatient services. "But if inpatient treatment is required, imagine the relief of going to a hospital in another town to find the care team there already knows your story. Because of our integrated health system, the care teams in those facilities will have full access to a patient's medical records."
An open house will be held at the new OSF Center for Health – Streator on Saturday, January 16 from 9 a.m. until noon. The community is encouraged to attend.
For more information, visit http://www.osfhealthcare.org/streator.
For more information contact: Karen Brodbeck - Vice President, Public Relations, OSF Healthcare System 815.993.3995