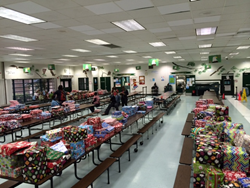 Fort Lauderdale, Florida (PRWEB) January 05, 2016
888 4U2 Sell, local real estate experts that purchase properties throughout Florida and North Carolina, partook in The Lighthouse Church's 7th annual toy drive helping to provide toys to children at four area schools in South Florida. Sunland Park Elementary, Dillard Elementary, West Hollywood Elementary and Liberty City Elementary School's after school programs all received toys this holiday season.
The majority of the children that attend these four inner city schools come from low income households where they do not have many of the basic necessities that are often times taken for granted. There are days that go by that these students have trouble finding food, clothes, undergarments, shoes, socks, etc. Over the past seven years that this holiday toy drive has taken place, thousands of gifts have been donated to assist in providing a memorable holiday season for these children in need.
The team members at 888 4U2 Sell participated in The Lighthouse Church's "Helping Kids in Broward" 2015 Holiday Toy Drive. Unwrapped toys ranging from $10-12 for male and female children between the ages 4-11 were asked to be donated by the second week of December. This holiday season alone over 1,900 toys were collected and distributed to the children at these four schools.
Gene Schroeder and Angelo D'Alessandro of 888 4U2 Sell have been flipping properties throughout South Florida since for over 16 years. 888 4U2 Sell helps property owners sell their property fast with the least amount of hassles. They purchase most types of properties for cash regardless of their condition in Florida as well as North Carolina. Learn more about 888 4U2 Sell on their website here.