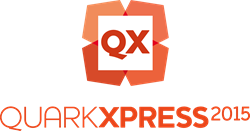 Denver, CO (PRWEB) January 05, 2016
With the start of the New Year, now is the perfect time to purchase a copy of QuarkXPress 2015. Between January 1 and February 15, 2016 everyone who purchases or upgrades to QuarkXPress 2015 will receive a second license of QuarkXPress 2015 free.
QuarkXPress 2015 is the current version of Quark's leading design and page layout software for creative professionals. In a recent survey, QuarkXPress users overwhelmingly voted QuarkXPress 2015 their favorite version of QuarkXPress of all time. It features the top 10 most user-requested enhancements as well as 64-bit performance, certified PDF/X-4 output and functionality for creating fixed layout eBooks. QuarkXPress is sold as a perpetual license for Mac OS X and Windows, which means no subscriptions are required. Find out more: http://www.quark.com/2015.
Buy One, Get One Details
New and upgraded licenses of QuarkXPress 2015 purchased during the promotional period are eligible for the Buy One, Get One offer. Purchase or upgrade to QuarkXPress 2015 through the store.quark.com, by contacting Quark Telesales, or through an Authorized Reseller. For details on redeeming the free license as well full terms and conditions, visit http://content.quark.com/bogof-us.html.
About QuarkXPress
QuarkXPress is leading graphic design and page layout software for creative professionals around the world who depend on quality, performance and stability. QuarkXPress 2015 is the newest version of QuarkXPress that features fast 64-bit architecture, industry-verified PDF/X-4 output, fixed layout interactive (app-like) eBook production, the top most user-requested features, and much more. Unlike many design suites, QuarkXPress is sold as a perpetual license, which means users make a single purchase and aren't locked into an ongoing subscription.
# # #
Quark, QuarkXPress, and the Quark logo are trademarks or registered trademarks of Quark Software Inc. and its affiliates in the U.S. and/or other countries.
Contact: Sarah Rector, Quark Software Inc., 303-894-3753, srector(at)quark.com