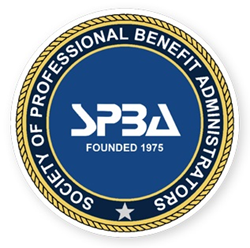 Our goal is to encourage even more exchange among TPAs by streamlining the forums and enriching the user experience.
Chevy Chase, MD (PRWEB) January 05, 2016
Peer-to-peer sharing has always been a hallmark of the Society of Professional Benefit Administrators (SPBA), and the organization recently expanded its online forums to further facilitate this type of open communication.
With the forums SPBA now has in place on its member website, comprehensive-service third party administrators (TPAs) from across the U.S. are able to compare their experiences with self-funding, discuss any compliance challenges they face and brainstorm plan improvements to benefit employers.
According to SPBA president Anne Lennan, TPAs are finding value from these platform enhancements. "The forums were originally designed as a way for members of the TPA community to reach out to their peers and gather different viewpoints on how to handle industry issues," she explained. "Our goal is to encourage even more exchange among TPAs by streamlining the forums and enriching the user experience."
As part of the online forum expansion, SPBA created individual discussion boards for two major topics in self-funding – TPA Operations and Taft-Hartley. The organization also included a separate ACA Reporting forum since the first information returns required under the Affordable Care Act must be filed in 2016.
"With the ACA forum, TPA members are initiating conversations on a range of topics, such as how to assist employers with their reporting needs and adapt administrative services to be most helpful," Lennan said.
The TPA Operations forum serves as a continuation of the related educational workshops conducted at SPBA's fall conferences and gives members a chance to take their discussion of any general self-funded plan issues online. The Taft-Hartley board is also an extension of conference workshops and covers items that are related to unions.
Lennan explained that these updated forums can be especially useful to TPAs who are looking for feedback from other benefit administrators who have dealt with similar situations. "Because our members represent self-funded plans of all different sizes and formats, TPAs are often able to connect with other firms who really understand where they're coming from," she said. "This online exchange is just one of many valuable benefits of SPBA membership."
For more information about SPBA, contact:
General Inquiries – Fred Hunt, SPBA Active Past President, fred(at)spbatpa(dot)org or 301-718-7722
Membership Inquiries – Kathy Strauss, Director of Member Services, kathy(at)spbatpa(dot)org or 301-718-7722
SPBA is the national association of Third Party Administration (TPA) firms that manage client employee benefit plans. It is estimated that over 60% of U.S. workers and their dependents in non-federal health coverage are in plans administered by TPAs. The clients of TPA firms include every size and format of employment, including large and small employers, state/county/city plans, union, non-union, collectively bargained multiemployer plans, as well as most industries and professions.