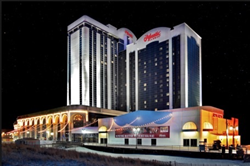 (PRWEB) January 05, 2016
The Atlantic Club is for sale, following a year-long effort by a potential buyer to redevelop the project. The owners, TJM Properties of Clearwater, Florida, today announced that they will be accepting new offers for the waterfront property, which closed on January 13, 2014.
Endeavor AC, LLC, a Pennsylvania-based property firm, had made extensive redevelopment plans for the hotel that included conference and event facilities, a family entertainment center, new restaurants and retail space and construction of an indoor/outdoor waterpark along the Boardwalk.
"Endeavor made an exceptional effort to bring this project to fruition," said Terence J. McCarthy of TJM Properties. Mr. McCarthy noted that his firm supported the purchase and Endeavor AC, LLC's plans, as they successfully obtained planning approvals for projects such as the water park and sought additional funding from public and private sources.
"Unfortunately, Endeavor was not able to generate the additional deposit funds needed," Mr. McCarthy said. He affirmed that several other companies expressed an interest in the property, but that TJM had deflected these inquiries in deference to its contract with Endeavor. "Both our firms have invested substantial time and money in the planning process," Mr. McCarthy said. "We felt that the project was good for Atlantic City. Endeavor has laid a foundation that has generated interest in government funding that may enhance the value of the property and we are disappointed that they were unable to continue."
TJM Properties purchased the Atlantic Club Hotel in 2013, four months after the 800-room casino hotel was closed following a bankruptcy sale of its assets. The hotel, formerly known as the Atlantic City Hilton, is located at the southern end of Atlantic City's legendary Boardwalk.
TJM Properties remains an important player in Atlantic's City's development. In 2014, TJM Properties purchased The Claridge, an Atlantic City icon since 1929. A multi-million dollar renovation program restored the hotel to its Jazz Age splendor and The Claridge reopened as a non-casino hotel in 2014. Mr. McCarthy notes that non-casino hotels are trending, as Atlantic City expands its attractions and recreational facilities...
The Claridge is part of the portfolio of TJM's newly-formed hospitality management company. The Atlantic City-based firm is rapidly expanding its portfolio of individual hotels, branded properties and resorts and recently purchased The Radisson Philadelphia Northeast in Bucks County.
TJM Properties is a privately held real estate firm owned and operated by Terence J. McCarthy of St. Petersburg, Florida. The company owns a growing number of hotels in Florida, New Jersey and Pennsylvania under the Quality Inn, Baymont Inn, Howard Johnson and Radisson flags. A leading developer of Senior Living Communities, TJM Properties recently sold 15 of its 19 Senior Living properties, comprising 2500 units, for more than $200 million. http://www.tjmproperties.us.
Interested parties should contact Dale Schooley at 727-683-1200. E-mail dschooley(at)tjmproperities(dot)us.
Dale Schooley
TJM Properties
727-683-1200/dschooley(at)tjmproperties(dot)us
Anne Sweeney
Anne Sweeney Public Relations
732-329-6629