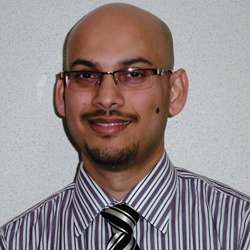 Dr. Pahlovy has been working as an Expert Research and Development Engineer for Dynax Corporation Japan since 2011.
WARRENDALE, Pa. (PRWEB) January 04, 2016
SAE International announces that Shahjada Ahmed Pahlovy, PhD, Expert Research Engineer with Dynax Corporation, is the winner of the Subir Chowdhury Medal of Quality Leadership.
Dr. Pahlovy will receive the award during the SAE 2016 World Congress, which will be held April 12-14 in Detroit.
The Chowdhury Medal honors those in the mobility industry who bring forth innovation and broaden the impact of quality in mobility engineering, design and manufacturing. This prestigious award recognizes the mobility profession's benefits to society through quality in engineering. The award is named for Subir Chowdhury, who is Chairman and CEO of ASI Consulting Group. Chowdhury, an SAE Fellow, is also the author of "Global Quality Awareness," a Subir & Malini Chowdhury Foundation initiative.
Dr. Pahlovy has been working as an Expert Research and Development Engineer for Dynax Corporation Japan since 2011. Before, he served as an Assistant Professor and Post Doc Researcher at Tokyo University of Science, Japan from 2008-2011.
He introduced a new term called "3S" (Save materials, Save energy and Save environment) in the automotive transmission clutch industry. He developed an analytical model to predict the drag torque characteristics of disengaged wet clutches of transmission. His key research areas are R&D of low fuel consumption transmission clutch disk; CFD Simulation and modeling; and green nano tribology: reduction of friction loss by DLC coating, micro/nano patterning or structuring.
Dr. Pahlovy has published more than 32 research papers, delivered more than 25 talks in 17 international conferences, and received several awards and scholarships from Japan, China, India, USA, UAE and Spain. He is a regular reviewer of SAE International Journal and JVST-B, and member of SAE International, ASME, CSME and JSPE. He obtained his bachelor's, master's and PhD degrees in Mechanical Engineering from universities in Bangladesh, China and Japan respectively.
SAE International is a global association committed to being the ultimate knowledge source for the engineering profession. By uniting over 137,000 engineers and technical experts, we drive knowledge and expertise across a broad spectrum of industries. We act on two priorities: encouraging a lifetime of learning for mobility engineering professionals and setting the standards for industry engineering. We strive for a better world through the work of our philanthropic SAE Foundation, including programs like A World in Motion® and the Collegiate Design Series™.