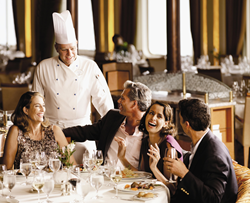 Guests will have multiple dinners and wine tastings with their hosts, including a 6-course Relais & Chateaux dining experience.
Carmel, CA (PRWEB) January 06, 2016
The Winemaker/General Managers of Archery Summit (Chris Mazepink) and Pine Ridge Vineyards (Michael Beaulac) are inviting travelers to join them in exploring the French and Spanish Rivieras from the newly-updated Silversea Cruise Line Silver Cloud. This seven day itinerary begins in Nice and visits Saint Tropez, Marseille and Sete in France and Mallorca, Valencia and Barcelona in Spain. Cruise dates are April 15 to 22, 2016.
Pine Ridge Vineyards and Archery Summit are both owned by Crimson Wine Group. Archery Summit produces Pinot Noir in Oregon's Willamette Valley, and Pine Ridge Vineyards in Napa Valley is best known for Cabernet Sauvignon. Hosted activities featuring these wineries onboard include social receptions, wine tastings and multiple dinners including an Archery Summit and Pine Ridge Vineyards 6-course Relais & Chateaux dinner in Le Champagne restaurant with Mr. Mazepink and Mr. Beaulac.
Facilitating this journey is Michael Mastrocola's MillenniuM (MmMmTravel for short) as part of their 2016 Taste of Life travel collection. MmMmTravel has a great deal in common with a bottle of world-class wine. The finished product is the culmination of years of work and one precise moment. It can never be recreated exactly, but one understands that good vines, knowledge and craftsmanship are indicative that the next vintage will be stellar. A travel artisan, Michael Mastrocola has extensive international travel experience and over 35 years in the industry.
Silversea is a five star all-inclusive cruise line as such onboard gratuities, beverages (including wine, champagne and spirits, meals and entertainment) are included in the cruise fare. All accommodations on the 296 passenger Silver Cloud are suites with ocean views, many with private balconies. Optional food and wine focused shore excursions have been arranged in Marseille to Cassis, Mallorca Island and Barcelona for Archery Summit and Pine Ridge Vineyards guests. Silversea cruise fares are from $2,950 per person, shore excursions are not included in the fare. For additional information visit http://www.MmMmtravel.com.