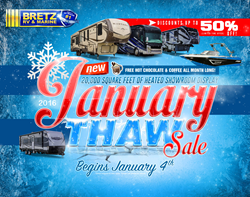 Missoula, Montana (PRWEB) January 05, 2016
The January Thaw Sale at Bretz RV & Marine, which features huge savings on select RVs and Boats, will include inventory discounted up to 50% off their regular price. It is an excellent time for those looking to purchase an RV or boat at an affordable price.
With over 9 million households now owning an RV in the US, and such a wide variety of brands to choose from, deciding which type of RV or boat to purchase can often make the overall experience feel overwhelming. Bretz RV & Marine can help you choose the right RV or boat for your specific wants and needs. Whether it is a weekend getaway, family vacation, or a day on the lake, Bretz RV & Marine is committed to providing personalized customer service and ensuring that your RV dreams come to life.
"When my family purchased their first RV, it was a huge deal, and people rarely bought RVs' back then, so I know how scary it can be for first time RV owners. That's why at Bretz RV & Marine, we really try to get to know our customers before we explore different options. The January Thaw Sale is one way we can help first time RV owners to find the perfect RV without going over a certain budget. And for current RV owners who know what they want, we are always happy to help in whatever way possible", said company president Mark Bretz.
Here is a sneak peek at some of the RV selections on sale during the January Thaw Sale between Jan. 4 and Jan. 31:
Missoula

2016 Keystone Cougar 19RBEWE: $19,995 (Regular price: $29,736)
Save 50% on the 2003 Dutchmen Aerolite Cub 20: Sale price at $8,497
Billings
2015 Keystone Alpine 3510RE: $59,995 (Regular price: $94,039)
2015 SmokerCraft Pro Angler 172: $22,995 (Regular price: $30,489)
Boise
Save 50% on the 2014 Little Guy Worldwide 5 Wide: Sale price at $6,998
2013 Thor ACE 29.1: $52,826 (Regular price: $79,995)
About Bretz RV & Marine:
Bretz RV & Marine first started in 1965 when Frank and Vi Bretz brought their first Aloha Trailer and began operating a service station in Missoula. Eventually passing on ownership to their two sons Mark and Dave, the family-owned dealership now boasts over 55 years of experience and a location on North Reserve with a recently expanded 20,000 square foot showroom. Today, Bretz RV & Marine currently has three different locations in Missoula, Boise, and Billings. Also, the dealership is proudly recognized as the largest RV & Boat Dealer in Montana, Idaho, Eastern Washington, Wyoming and the Dakotas. Equipped with an extensive selection of RV and Marine vehicles, 26 fully equipped service bays, a dump station, Parts and Body shop, 99cent propane, and the dealership in Montana with the most RVDA technicians under one roof, Bretz RV & Marine continues to set the highest standards in customer service.
Explore and Share:
Keep updated on Bretz RV & Marine news, and join in on the fun during our January Thaw Sale and through the 2016 year.
Facebook: Like our Facebook page at http://www.facebook.com/bretzrvandmarine.
Twitter: Follow @BretzRV or hashtag #BretzRV.
Pinterest: Follow our RV, Boat, and Travel themed boards at http://www.pinterest.com/bretzrv/
Youtube: Subscribe to our Youtube channel MontanaRVDealer.
For more information on Bretz RV & Marine, please visit http://www.bretzrv.com or check out our Facebook page at http://www.facebook.com/bretzrvandmarine.