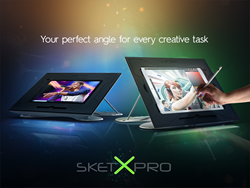 "I own an Ipad Pro and a Surface Pro 4 tablet and as an artist who uses a stylus, I always came back to the same question– how do I hold it"
Miami, Florida (PRWEB) January 12, 2016
Interactive Art Services Inc.® (IAS) today introduced SketXpro™, combining two products– a revolutionary adjustable, non-slip surface stand for digital tablets, and a tripod-ready holder that allows professional artists and designers to work remotely– into one lightweight portable device.
SketXpro™ stand is a new patent pending design created and engineered by Scott Ownbey, founder and Creative Director of IAS companies, Storyboards Online & Animaticmedia.
"I own an Ipad Pro and a Surface Pro 4 tablet and as an artist who uses a stylus, I always came back to the same question– how do I hold it," says Ownbey. "The problem I saw wasn't the technology, but the way that you interact with the tablets. Every tablet holder on the market is made for watching–not working. Nothing was engineered to withstand the pressure of leaning on a tablet when you work with a stylus."
SketXpro is a revolutionary tablet stand
The SketXpro provides a completely adjustable, non-slip surface for professional artists, designers and photographers who are looking for a superior work surface for any creative task.
Taking a page out of Apple's product design guide, SketXpro fits stylishly on any desk, offering an elegant bead-blasted aluminum finishing around the base, swing arm and back of tablet holder. The holder cover is a premium soft-touch silicone composite. The tablet is securely held in place using rare earth Neodymium Magnets- the strongest permanent magnets made. The surrounding plate conforms to the unique offerings of the Surface Pro 4 and Ipad Pro's features, providing housing for the speaker design, freedom to attach headphones, power continuously, and a slot for each of the tablet's styluses. From 80° to 180° the swing arm of the SketXpro provides an extremely versatile height and perfect angle for any creative task.
SketXpro is a Breakthrough Tablet holder for a tripod
SketXpro can can be easily detached with a flick of the wrist, letting creatives escape their studio and take their tablet where their inspiration takes them. SketXpro uses a Manfrotto quick-release plate with 1/4'' camera fixing screws and can be easily attached to a tripod or monopod using a 1/4'' and 3/8'' thread. SketXpro is a professional artist's tool, but its style and simplicity make it for everyone.
Ownbey decided to research and investigate what worked in traditional sketch drawing tablets and apply those principles to developing a drawing stand for digital tablets. After sketching and modeling several designs he came up with one that excited both him and other artists at his storyboard studio. "Once you get your hands on a SketXpro with an Ipad Pro or Surface Pro 4, you'll agree we reinvented the way you work with your tablet," said Ownbey.
To bring the product to the market, Ownbey has decided to launch a Kickstarter campaign in order to make the first production run and coordinate fulfillment. The campaign is scheduled to begin on January 14, 2016. The first production run of the SketXpro stand will be completed and shipped to backers by late June 2016. SketXpro can be purchased through Kickstarter with significant discounts through Super Early Bird- at $149.00, Early Bird- at $154 pricing and a Kickstarter price of $159.00. SketXpro's expected retail price is $189.00. Backers can donate as little as $9 to bring this project to reality. Stretch goals have been announced for plans to extend compatibility of SketXpro for Surface Pro 3, Wacom Cintiq Companion 2 and Wacom Cintiq 13 HD tablets.
To learn about and participate in this Kickstarter campaign, please go to:
https://www.kickstarter.com/projects/iasinc/sketxpro-reinvents-how-you-work-on-a-surface-4-or
Additional links:
sketxprostands.com