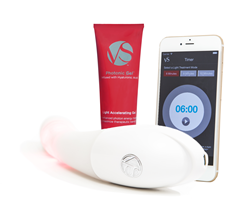 Las Vegas, NV (PRWEB) January 05, 2016
Joylux Inc., a consumer health and wellness company based in Seattle, WA, launches vSculpt, the world's first over-the-counter handheld medical device using light-emitting diode (LED) and sonic technology for pelvic floor toning and vaginal rejuvenation. One in three women will be impacted by some form of pelvic floor disorder at some point in their lives, brought on by pregnancy, obesity, menopause, or various other medical conditions. Additionally, with childbirth and aging, many women suffer from vaginal tissue laxity. Weakened pelvic floor muscles and tissue can cause millions of women to suffer gynecological health issues, spanning from stress incontinence and sexual dissatisfaction to loss of vaginal sensation and lubrication. Given the few effective treatment options available, most women learn to just live with these issues. With Joylux's introduction of vSculpt, women no longer have to suffer in silence.
Utilizing PhotosonicTM technology—an innovative combination of red and infrared LEDs, gentle heat, and sonic technology—paired with a proprietary Photonic Gel™, vSculpt helps strengthen and tone the pelvic floor area. When the light energy and sonic vibration is delivered to the vaginal tissue, a healing and tightening response occurs, restoring muscle tone and improving bladder control, while also rejuvenating the vaginal tissue for tone, hydration, and intensified sensation during sexual activity. vSculpt's overall effect is enhanced pelvic floor health and sexual wellbeing.
"As incredible as it is to be a woman and a mother, there are some unfortunate physical changes that occur after we give birth or as we age," says Joylux Inc. CEO and Founder Colette Courtion. "Not only are these physical changes difficult for us to deal with, but they can negatively impact our self-esteem and lead to intimacy issues with our partner. With vSculpt, women now have an effective solution that can be used in the privacy of their home to improve pelvic floor issues, while helping to rebuild self-confidence."
The vSculpt treatment is temperature controlled so it is safe and comfortable. Users can download a compatible mobile app to assist in tracking treatment time, accessing product instructions, and providing useful tips. Used three times per week for ten minutes per session over 60 days, it has delivered impressive results. In a 2015 independent study administered by The Benchmarking Company, female study participants reported the following:

90% experienced less urinary incontinence,
95% felt improved vaginal tightness,
91% experienced more vaginal hydration,
89% felt increased vaginal sensitivity, and
89% felt increased sense of confidence with sexual intercourse.
"I was extremely unhappy with the medical choices available such as hormonal creams, etc., and just resigned myself to enduring pain during intercourse. I must say I was thrilled that my vSculpt device made intercourse pain free," reported a female study participant.
"Until now, the only treatment options for women who suffer from pelvic floor problems and vaginal laxity have been invasive surgery, medications, laser therapy, and physical therapy," says Donnica L. Moore, MD and member of the Joylux Inc. Medical Advisory Board. "As an advocate for women's personal health and wellness, I am excited that vSculpt will give women the first home usage device to address vaginal and pelvic floor problems associated with postpartum and menopausal vaginal changes, effectively helping to improve their quality of life."
vSculpt will debut at the Consumer Electronics Show in Las Vegas (January 6-9, 2016), located at Tech West at the Sands Expo, Booth #73535.
Retailing for $345, vSculpt will become widely available starting January 17, 2016, via Peekay retailers nationwide, at select retailers online, and at http://www.vsculpt.com/.
About Joylux, Inc.
Joylux, Inc. is an innovative consumer health and wellness company creating innovative, light-emitting diode-based (LED) medical devices that transform women's pelvic floor health and bring Joy to the lives of our customers. For more information, please visit us online at joyluxinc.com.