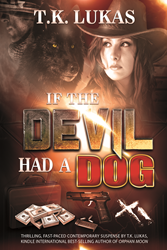 "If the devil had a dog, you'd be it," Sidney whispered, her voice trembling. "But I know the devil. He hates dogs."
Fort Worth, Texas (PRWEB) January 06, 2016
T.K. Lukas' dark thriller,"If the Devil Had a Dog," tells the story of Sidney McQueen and Markus Yeager, two people thrown together in a cauldron boiling over with emotional tension and physical danger. Circumstance and mutual need unite them in a quest for escape, recovery, and redemption. Sidney battles an evil web of deceit and unspeakable violence, while both seek to save one another from even darker personal demons.
Like T.K.'s debut novel "Orphan Moon," "If the Devil Had a Dog" is available at Amazon as a Kindle E-Book. Look for T.K.'s biography of the real-life Marine turned CIA Operative, who was the inspiration for the fictional hero in Devil Dog, in mid-2016.
Praise for "If the Devil Had a Dog:"
"Wow! T.K. Lukas' intriguing characters pull you in and the story keeps you turning the pages." Suzanne Ferrell - USA Today Bestselling author of Mischief Under the Mistletoe
"In a word?  Un-put-down-able. The story reels you in, from the smashing first line and delivers until the end. Readers won't want to shelve these characters." Amazon Five-Star Review
"If you are in the mood for a soft, sweet romance, this is not the book for you as it features a bad-ass Marine, strong female, sex, and violence. As a stand-alone novel, it could be a movie. If we can beg her for sequels, it could be a thrilling TV series." Amazon Five-Star Review
"This book is a layered, complex thriller that took me in unexpected directions. At first I worried that the heroine, Sidney, was going to be a damsel-in-distress, but boy, was I WRONG! She's a tough lady, made tougher by circumstance."  Amazon Five-Star Review
T.K. Lukas, a native of Fort Worth, Texas and a self-professed horse addict, is an award-winning author who writes both contemporary and historical fiction. Her debut novel,"Orphan Moon," is published in 13 countries and found its way onto numerous Amazon Kindle bestseller lists. Additionally, Orphan Moon is a Writers' League of Texas 2015 Top Five Finalist for historical fiction and the recipient of the Readers' Favorite Five Star Award. T.K.'s second novel, "If the Devil Had a Dog," is a contemporary, edge-of-your-seat thrill ride packed full of heart-pounding suspense. As essential as they are to the author's every-day life, horses also play a major role in both novels.
"If the devil had a dog, you'd be it," Sidney whispered, her voice trembling. "But I know the devil. He hates dogs."