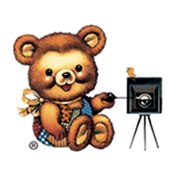 We take great pride in being able to help the women and children of Ashley's Place looking for a better tomorrow.
Gallatin, TN (PRWEB) January 05, 2016
For 10 years Teddy Bear Portraits by Nationwide Studios Inc has invited Santa to Ashley's Place (Sumner Child Advocacy Center), making children's dreams come true. Children and caregivers enjoy holiday festivities, jolly laughs, and holiday smiles during the annual fundraising event.
Each year, Teddy Bear Portraits helps raise awareness and donates the proceeds of the event to benefit Ashley's Place, a Sumner County child advocacy nonprofit that provides services for victims of sexual and physical abuse.
Ashley's Place provides hundreds of forensic interviews enabling victims of child sexual abuse to testify against their offenders and provides prevention education to thousands of adults and youth each year in Sumner County. This work is critical in stopping the cycle of abuse.
In support of this important work, Teddy Bear Portraits offered free Santa portraits and prints to families in Sumner County. But more importantly, the hopes and dreams of over 150 children and their families were heard and these precious moments were captured by Teddy Bear's professional photographers.
"Teddy Bear Portraits has been a part of the Sumner County Community since 1985, both as a major employer and as a philanthropic presence. We have directly affected several generations of families. We take great pride in being able to help the women and children of Ashley's Place looking for a better tomorrow. At Teddy Bear Portraits we believe that memories matter. Memories tell the story of the heart and we want to capture these moments for everyone. Our people and our community are our heart!" Sarah Haston, Vice President of Marketing and Corporate Business Development.
Teddy Bear Portrait's vision is to provide high quality images that withstand the test to time, providing a product that parents will treasure shines at the holidays with Ashley's Place. In keeping with Teddy Bear's core values, this Christmas celebration cherishes the family and supports the community in which their families live.
As the industry leader in preschool and childcare photography, Teddy Bear Portraits has captured the hearts, smiles, and memories of over 17 million children across the country. Teddy Bear Portraits began with one man's humble vision: a pony, a camera, and a bathtub for developing pictures -- with the goal of capturing a memory of a child that would be forever catalogued in time: a memory that could be re-visited for years to come and passed along to generation upon generation.
"It's an opportunity to inform the community about the work that Ashley's Place does. It really pulls in folks from the community and we're able to share with families what it is we do and provide general prevention information to families. And it brings some fun and light-hearted moments to our work. Teddy Bear Portraits has been more than gracious over the years. Their generosity and the packages they provide are wonderful and they've been great to work with," Amy Burke-Salyers, Executive Director.
Ashley's Place is a non-profit organization providing services to children and families when there are allegations of sexual abuse, severe physical abuse and/or witness to violence. Ashley's Place is dedicated to Ashley and all the victims of abuse throughout Sumner County who deserve a child friendly place to be interviewed and receive the therapy they so desperately need. The mission of the Sumner Child Advocacy Center is to ensure that a cooperative, multi-disciplinary team delivers comprehensive services to child physical and sexual victims and their families in a child-focused, neutral-based facility.
Learn more about Teddy Bear Portraits by visiting http://www.teddybearportraits.com/.