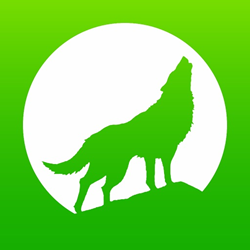 "Our Wolf-Tek family of smart-device applications allow users to collect and display the important data needed to analyze and visually understand how location-intelligence can affect them. It provides the visual context to make better decisions,"
Birmingham, AL (PRWEB) January 06, 2016
Wolf-Tek, the leading innovator in mobile GIS technology, announced today the launch of the APEX Android version of its popular Wolf-GIS™ APEX application for mobile devices. The APEX Android version, and its previously released IOS version, is the world's first Mobile GeoServer app. APEX provides easy-to-use mapping tools for the collection, management, and display of your location-based data.
Wolf GIS users collect location-based (GPS) data that they can easily display on selectable base map types. A complete drawing toolkit allows users to capture drawings manually or automatically using GPS-tracking. Notes, images or other data can be attached to specific geo-locations for such purposes as asset inventory projects, regulatory compliance requirements, and tax documentation.
"Our Wolf-Tek family of smart-device applications allow users to collect and display the important data needed to analyze and visually understand how location-intelligence can affect them. It provides the visual context to make better decisions," said Wolf-Tek's Founder and CEO Michael Golden. "Whether it is a telecommunications engineer documenting asset locations, a farmer collecting location-specific soil data, or a real estate professional capturing location image data, APEX provides mobile tools that permit users to perform their jobs faster and easier using their favorite mobile devices."
APEX's features provide a wealth of possibilities for anyone that manages land oriented data:

Gain access to public records: download public records on properties via their shapefiles, including ownership records, tax history, land measurements, boundary specifics, plus information on utilities and zoning
Farmers can accurately map their property and make detailed notes, such as tracking crop growth rates on different parts of their land.
Real estate agents can quickly pull up public records, identify property boundaries and take geo-located pictures for customers.
Timber companies can track and manage large sections of land from the field and avoid straying past property lines.
"APEX Android and IOS allows a mobile user to import all common GIS file types with ease," said Tory Briggs, Wolf-Tek's VP of Engineering and Operations. "Now mobile users can Filter, Style, and manage Feature data like a GIS professional."
APEX's Pro subscription also has a special feature that keeps you and your crew in check while working around boundaries or property lines. Tract-Lock can be a useful tool for logging companies, agriculture, and even for hunting club members.
"Wolf-Tek's patented Tract-Lock function helps you and your crew stay within a site as you work, comparing your location to property boundaries or special areas you designate, and providing audio and visual warnings if the boundary is crossed," Briggs said
Wolf-GIS™ APEX is currently available as an Android application on the Google Play Store and as an IOS app in the iTunes Store. Each license allows use on multiple mobile devices, and includes a Web-App version of the application for the user's PC, offering PC browser access to your secure data storage.
Following a 30-Day Free Trial, subscribers can choose between two, versatile versions on the Wolf-GIS™ APEX platform. APEX Personal ($6.99 monthly) and APEX Pro ($19.99 monthly). For a complete feature comparison, product descriptions, and user support guides, please visit http://www.wolfgisapex.com
About Wolf-Tek
Wolf-Tek delivers innovative mobile, location-based technologies to users on their favorite mobile devices. Founded in 2012, Wolf-Tek's applications provide a comprehensive suite of easy-to-use tools for use in capturing, managing, analyzing and displaying geospatial data for its customers in the small enterprise, SMB, and consumer market segments.
To learn more information about Wolf-Tek, please visit http://www.wolf-tek.com
© 2013 Wolf-Tek, LLC. Wolf GIS, Wolf-Tek, Tract Lock, and Wolf-Tek logo are registered trademarks of Wolf-Tek, LLC. iPad, iPhone, iPod, and iPod touch are registered trademarks of Apple, Inc., registered in the US and other countries. Google, Android, and Google Play are registered trademarks of Google, Inc., registered in the US and other countries.