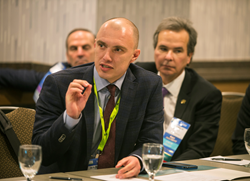 Rolling Meadows, Ill. (PRWEB) January 05, 2016
Ian A. Maher, M.D., of St. Louis, was recognized as an emerging leader of the American Society for Dermatologic Surgery last month when he was presented with the ASDS Award for Outstanding Service.
The award is given annually to one member who has volunteered his or her time for multiple Society projects or initiatives. In an effort to recognize younger volunteers, award recipients must be in their first 10 years as an ASDS member.
The award was presented to Maher during the recent 2015 ASDS Annual Meeting in Chicago.
Maher is the founder of the ASDS Sun Safe Soccer program, developed through the ASDS Future Leaders Network. Sun Safe Soccer is a skin cancer prevention program that asks coaches to help create a culture of sun protection in soccer – one of the most-played sports by children ages 4 to 19 in the United States.
Maher spearheaded the program as a 2010-11 mentee in the Future Leaders Network, which helps groom the next generation of leaders in dermatologic surgery by pairing them with mentors and providing hands-on leadership and project management opportunities.
To promote the program at the 2013 National Soccer Coaches Association of America convention, Maher shared podium time with John O'Brien, a star of the U.S. Men's National Team in the 2002 World Cup. O'Brien told the story of his own experience of having skin cancer as part of his introduction of Maher.
In addition to his Sun Safe Soccer work, Maher represents the American Society for Dermatologic Surgery Association on the National Council on Skin Cancer Prevention, which provides a united voice to reduce skin cancer incidence, morbidity and mortality through awareness, prevention, early detection, research and advocacy.
Maher also has participated in several ASDS Work Groups and is chair of the Public Service Work Group and the Quest Engagement Work Group. The Public Service Work Group oversees the Choose Skin Health Program, which offers free skin cancer screenings and is the winner of a 2015 Power of A Gold Award for "helping to make the world a better place." In 2011, Maher was one of the program's top regional volunteer screeners. The Public Service Work Group also directs the Sun Safe Soccer, Sun Safe Surfing and Hair Stylists Against Skin Cancer programs.
Maher was nominated for the ASDS Award for Outstanding Service by Naomi Lawrence, M.D. The two became acquainted through their mutual participation with the Future Leaders Network.
"Ian is bright, enthusiastic and very industrious," said Lawrence, who began her term as ASDS/ASDSA President at the Annual Meeting. "With any project or assignment, he is always conscientious and often innovative. He is clearly dedicated to serving our organization and the dermatologic community as a whole."
Maher, an assistant professor in the Department of Dermatology at Saint Louis University, is an attending physician at the Anheuser-Busch Institute and SLUCare Des Peres. He has clinical expertise in skin cancer, dermatologic surgery, Mohs surgery, facial reconstruction and cutaneous laser surgery.
About ASDS
The American Society for Dermatologic Surgery is the largest specialty organization exclusively representing dermatologic surgeons who have unique training and experience to treat the health, function and beauty of your skin. ASDS members are pioneers in the field. Many are involved in the clinical studies that bring popular treatments to revitalize skin and fill and diminish wrinkles to the forefront. Their work has helped create and enhance many of the devices that remove blemishes, hair and fat, and tighten skin. Dermatologic surgeons also are experts in skin cancer prevention, detection and treatment. As the incidence of skin cancer rises, dermatologic surgeons are committed to taking steps to minimize the life-threatening effects of this disease. For more information, visit asds.net.
Follow us:
Website: asds.net
Follow ASDS on Twitter: twitter.com/ASDSSkinExperts
Become a fan of ASDS on Facebook: facebook.com/ASDSSkinExperts
Locate a dermatologic surgeon in your area: asds.net/findadermatologist.aspx
Contact:
Jay Schwab
Communications Manager
American Society for Dermatologic Surgery
jschwab(at)asds(dot)net
847-956-9143