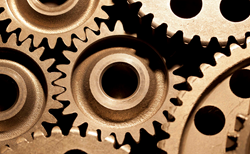 "The transformation to world-class quality is not possible without committed, visionary, hands-on leadership. " - Steven George
San Diego, CA (PRWEB) January 12, 2016
IT Optimization will deliver Lean Six Sigma (LSS) to IT Service Management (ITSM). Removing waste allows ITSM to deliver an answer on the first ring Service Desk and a near continuous flow Change Management process. LSS eliminates waste (waste is represented by tickets sitting in queues) and creates flow through a pull, not push, architecture. LSS is a proven methodology exemplified by Toyota to achieve whole organization efficiency!
IT Service Management is run as a cost center. LSS is used to transform the best service businesses in the world to customer focused organizations. Lean is able to shrink the execution time from first customer request to final response. The ITSM organization will be unique, run Lean and become the pride of the industry.
Summarizing the High Level LSS Steps:

Define Customer Value
Build a Critical to Quality Tree: Goal through to Strategy then Tactic
Assemble a Quality Function Deployment House of Quality: Tactics to actionable projects
Define Waste:
o -Defects: an example is poor ticket population,
o -Overproduction: multiple tickets for the same issue,
o -Waiting: request submitted, waiting for response,
o -Non- utilized talent: Continuous Improvement not implemented,
o -Transportation: non-needed movement involving tickets and people,
o -Inventory: too many tickets sitting in queues,
o -Motion: excess moving to get something done, and
o -Extra processing: work performed that is redundant.

Map the Value Stream: From customer request to final response
Create Flow and Pull: Design to increase flow between processes and Pull, not Push tickets
Solution Implementation: Build a go-forward plan
Continuous Improvement: A big move is made, now improve it
Metrics: For the project and operation.
Party, Party, Party: Celebrate and promote success.
Dare to separate from the crowd.