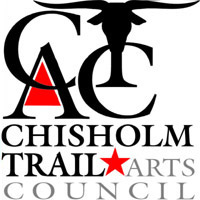 "When you eliminate art from the community, you eliminate the community." – Larry Gillette
Duncan, OK (PRWEB) January 06, 2016
The Chisholm Trail Arts Council's featured artist for January and February 2016, Larry Gillette, was born and raised around Anadarko, OK. He took an art class during his senior year of high school and "got hooked". He moved to Duncan twenty one years ago and considers Duncan his home. "It has been nice the past few years being able to spend as much time as I want with my paintings, and all the encouragement I've had from my family and friends."
Larry doesn't give his paintings a title because he wants people to see what they see instead of what he sees. The only three paintings that he has named all have the same name….Ripple Green. In addition, Larry Gillette, in collaboration with Cindy Parks, have created a coffee table book titled "Movements". It is a beautiful hard back book featuring a poem written by Parks and illustrated with paintings by Gillette.
A special artist reception will be Tuesday, January 12th from 6:00pm-9:00pm. There will be a drawing for an original 28x22 canvas painting of Gillette's feature piece, from his "Movements" Collection on the night of the reception. Tickets for the drawing are $5 each or $15 for 4 tickets. All proceeds benefit CTAC's Artist Gallery. In addition, 10 signed and numbered prints will be given to current and new CTAC members that attend on the 12th, while supplies last. His book will also be on sale that evening.
Guests must be 21 or older to attend the reception held at the Chisholm Trail Arts Council, 810 W. Walnut, Duncan, OK.
For more information, please contact the Chisholm Trail Arts Council at 580-252-4160 or visit http://www.chisholmtrailarts.com.