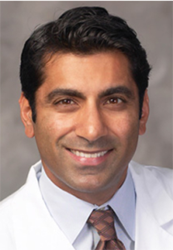 "There have been so many advancements in minimally invasive surgical procedures for spinal conditions that the risks for older patients no longer outweigh the benefits," said Dr. Khurana
Los Angeles, CA (PRWEB) January 11, 2016
A team of neurosurgeons at the Fortis Hospital, Noida recently discussed a number of successes the surgeons have had recently in treating older patients with spine diseases, such as degenerative disc disease, spondylosis, and trauma. In previous years, surgeons were reluctant to perform surgical procedures on elderly patients for fear of causing paralysis or further deterioration due the patients' often weakened health and immune system. However, the team has successfully operated on 20 older individuals between the ages of 70 and 79 with great success. Spine surgeon Dr. Sanjay Khurana discusses what these findings mean for the broader population.
"Only so long ago, surgery of any kind on patients over the ages of 70 were frowned on because the success rate was often low," said renowned orthopedic spine surgeon Dr. Sanjay Khurana. "There have been so many advancements in minimally invasive surgical procedures for spinal conditions that the risks for older patients no longer outweigh the benefits."
The spine surgeons at Fortis Hospital, Noida were able to help patients as old as 84 regain mobility with spinal decompression surgery. Back pain and injuries become more and more common as people age and the cartilage discs between their vertebrae gradually wear down. For many older individuals, severe back pain is treated as just another symptom of aging, despite the limitations and decrease of quality of life that spine damage can cause.
"Every patient's health and needs are unique," added Dr. Khurana. "It's important to have a thorough exam and discuss various treatment options before even considering surgery. What may be a safe, ideal option for one patient, may be too risky for another, regardless of age."
Minimally invasive surgery essentially means that surgeons cut through less skin and muscle tissue, which lends itself to less blood loss and faster recovery times. Endoscopic technology allows surgeons to simply move muscle and other tissues out of the way without causing damage when performing even complex procedures, such as artificial disc replacement.
"Endoscopic spine surgery has a high success rate among patients of all ages," said Dr. Khurana. "As long as an elderly patient is otherwise in good health, we can provide permanent, life-changing results that were not possible only so many years ago. There's no reason why a patient in his or her 70s cannot regain mobility through spinal surgery today."
Dr. Sanjay Khurana is a board-certified and fellowship trained pediatric and adult orthopedic spine surgeon in Los Angeles. He specializes in minimally invasive and robotic spine surgery procedures with an emphasis on degenerative disc disease, herniated disc, spinal stenosis, scoliosis and spinal deformity, spinal instability, spine trauma, spine tumors and spondylolisthesis. Dr. Khurana completed his undergraduate degree at the University of California at Berkeley and his medical school and orthopedic surgery residency at The Stanford University School of Medicine. Dr. Khurana completed his combined orthopedic and neurosurgical training at the prestigious University of Miami / Jackson Memorial spine fellowship under the mentorship of Dr. Frank Eismont and Dr. Barth Green.
To learn more about Dr. Sanjay Khurana, please call 310.321-4333 or visit http://www.laspinegroup.com.