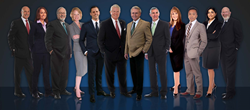 I am honored to call these gifted attorneys my partners. They have demonstrated their capacity and commitment to expand our educational and legal services throughout the state. Adrian J. Adams, Managing Partner & Founder
Los Angeles, California (PRWEB) January 13, 2016
Adams Stirling, PLC, California's premiere law firm representing common interest developments, announces Jasmine Fisher Hale, Cang Le, and Aide Ontiveros as new partners.
"Jasmine, Cang, and Aide epitomize the depth of professionalism, expertise, and devotion to exceptional client service our clients have come to expect from Adams Stirling," explains Adrian J. Adams, Managing Partner. "Aide has headed up our litigation department for several years, and will now be able to grow our department even bigger and to help secure Adams Stirling's admission to additional insurance carrier's counsel panels. Jasmine's strong transactional and business background makes her a natural fit to take on a larger administrative role in our firm's operations, including training all new attorneys and Cang's tireless role in client development and managing our Inland Empire office is more than deserving of this professional recognition."
Ms. Hale heads the firm's Los Angeles transactional practice group and oversees all Northern California clients as well. Her practice includes representation of large master-planned communities, mixed-use projects, and high-rise developments, among others. Ms. Hale not only specializes in all manners of general counsel she also has an extensive practice in employment law to assist clients. Ms. Hale earned her law degree from Pepperdine University School of Law and has a certification in entrepreneurship.
Mr. Le manages the firm's Inland Empire office. His practice includes both transactional and litigation services and he works with all manners of common interest developments including planned unit developments, golf and lake associations, and senior communities, among others. Mr. Le is a well-recognized expert in this field and frequent speaker and author at events statewide. Mr. Le earned his law degree from the University of San Diego School of Law and also a LLM (Master of Law) in taxation from the school as well.
Ms. Ontiveros oversees the firm's litigation department across all offices statewide. An expert litigator for over 20 years, Ms. Ontiveros has appeared in state and federal courts, and also taken cases successfully through the appellate level. Ms. Ontiveros also provides counsel on ethics issues and works with clients to develop effective litigation plans and focuses on litigation avoidance as much as possible. Ms. Ontiveros earned her law degree from the University Of California Los Angeles School of Law.
Adams Stirling was founded in 2000. Considered one of California's premier law firms, the firm exclusively represents common interest developments throughout the state for any issue concerning homeowners associations including general counsel and litigation. The firm promotes education for associations through our websites including the highly acclaimed http://www.Davis-Stirling.com, blogs, newsletters, journal articles, educational forums, and professional affiliations. Adams Stirling currently has offices in Los Angeles, Ventura, Orange County, Riverside, Palm Desert, San Francisco, San Diego, Sacramento, and Temecula. Visit us at: http://www.AdamsStirling.com.
###
For more information about the Firm, our attorneys, and how we can assist you with your legal matters please call (800) 464-2817 or email us at info(at)AdamsStirling(dot)com.