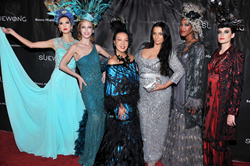 Sue Wong's parties are an event not to be missed! A great atmosphere, harkening back to a bygone era to re-create old Hollywood glamour. Her fashion creations are visually stunning and the whole experience is a definite feast for the senses.
Los Angeles, CA (PRWEB) January 05, 2016
Internationally-renowned celebrity fashion designer Sue Wong hosted a star-studded New Year's Eve celebration featuring a ten year Retrospective Fashion Installation at her historical Hollywood landmark palazzo, The Cedars. The special event was attended by dignitaries such as Congressman Ed Royce and entertainment luminaries such as actor-musician Ronn Moss (THE BOLD AND THE BEAUTIFUL, PLAYER), actress Alice Amter (THE BIG BANG THEORY), actress Sofia Milos (CSI: MIAMI), actress Bai Ling (WILD WILD WEST, ENTOURAGE), rocker Chris Pitman (GUNS N' ROSES), as well as Hollywood major players, former Director of BAFTA LA, Sandro Monetti and former BAFTA Chairman of the Board Nigel Daly, OBE, and Larry Namer, founder of E! Entertainment. Additionally, socialites Alexandrina Doheny and Jo Hilton joined accomplished visionaries from the glamorous worlds of fashion, film, music and photography to ring in the New Year.
Jarvee Hutcherson, President of the Multicultural Motion Picture Association presented Sue Wong with the 'Diamond Rose Award' for her contributions in Fashion. Additionally, Sue received awards presented from the City of Los Angeles and the County of Los Angeles Board of Supervisors.
The extraordinary cultural and artistic convergence culled powerful, diverse musical performances that awakened the Rock Legacy (Jimi Hendrix, Lou Reed and the Velvet Underground, Bob Dylan, Johnny Depp) embedded in the walls of Sue Wong's Hollywood landmark home. These performances included renowned musicians Ronn Moss, Jawn Star, Rob Math of Player, Shannan Rene Parks, Brit rocker Steve Cooke, international chanteuse Maria Elena Infantino, opera stars Michael Peer and Oleksandra Hrabova and popera singer Nick Palance.
SUE WONG's alluring gowns harken back to Hollywood's golden era, epitomizing timeless glamour and magic. Whether suffused with the sensuous glamour of Sue's iconic Silver Screen muses – Norma Talmadge, Greta Garbo, Marlene Dietrich, Jean Harlow; or steeped in feminine mystique, SUE WONG creations exude mystery, romance and glamour.
The exclusive SUE WONG Fashion Retrospective Installation -- unveiled on New Year's Eve and featured 24 signature creations: each an operatic statement from Sue's rarefied archives spanning her long tenure as celebrity fashion designer. The Cedars, a portal into Hollywood Babylon, with its soaring frescoed ceilings, gilded colonnade, period ironwork and antique furnishings epitomizes classic Hollywood glamour. Sue shares: "My designs are flattering and lyrical, they live a kind of magic; drawing on a potion of mystique and seduction. I strive for that alchemy, where the romance of the couture transforms a woman into a goddess—an emissary of beauty."
Oskar Rivera, CEO of Rivera Productions largely sponsored the most elegant evening, saluting the SUE WONG Fashion Retrospective and ushering in 2016 with Moreno BHLV Champagne; in addition to vodka sponsored by Toast Vodka. The enchanting evening was dramatically accented by gorgeous floral arrangements from Zina of Four Seasons Flowers & Design. Additional sponsors included: Purple Haze Liqueur, Hint Water, Kangen Water and Downey's Desserts.
Spectacular headdresses by What a Betty complemented the gowns to complete SUE WONG's dramatic vision. The ubiquitous jewelry of Vilaiwan designed by the talented Joe Polthakorn added additional flair to the SUE WONG signature look. beGlammed transformed the SUE WONG models into seductive goddesses with beautiful hair and makeup.
Alice Amter (THE BING BANG THEORY) shared: " Sue Wong's parties are an event not to be missed! A great atmosphere, harkening back to a bygone era to re-create old Hollywood glamour. Her fashion creations are visually stunning and the whole experience is a definite feast for the senses. Simply magnificent!"
Actor and musician Ronn Moss highlighted: "As part of the SUE WONG Ten Year Retrospective, Sue's models were adorned in her timeless masterpieces. It was truly inspiring for me to be surrounded by these live canvases of art in motion."
The SUE WONG Retrospective Collection awakened Hollywood's Golden Era, catapulting the essence of Glamour into the present and reinventing it for 2016 and beyond.
ABOUT SUE WONG
World renowned fashion designer Sue Wong is known for dazzling fashionistas with her couture-inspired glamorous signature style, combining the allure and elegance of iconic bygone eras with a modern sensibility to create timeless works of art. Distinguished by the impeccable quality of traditional couture dress making, her designs are steeped in romance and mystery while being thoroughly modern and accessible to women everywhere. Sue continues to forge new ground in defining fashion that transcends generations and boundaries even as she creates masterpieces of passion and desire expressed through inimitable style. She has dressed countless celebrities including Anne Hathaway, Jessica Biel, Minnie Driver and Taylor Swift. Sue Wong is available from $385 to $900 nationwide at specialty boutiques, major department stores including Neiman Marcus, Saks Fifth Avenue, Nordstrom, Bloomingdale's, Lord & Taylor and internationally in over 27 countries.