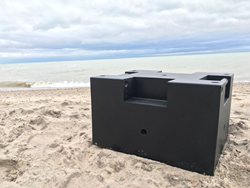 We have created a "gym in a box", one piece of fitness equipment that allows you to do hundreds of exercises.
Milwaukee, WI (PRWEB) January 05, 2016
The BuildingBlock, the all-in-one gym in a box fitness equipment, launched today on Kickstarter. With hundreds of different possible exercises, The BuildingBlock is the most versatile exercise equipment on the market, allowing users to achieve their goals, no matter what their fitness level.
The BuildingBlock is currently being used by elite athletes looking to improve their performance, baby boomers who want to focus on increasing their strength and mobility, and students who don't have the time or money to join a gym.
The BuildingBlock is designed to deliver the most versatile, efficient and timely workouts - completed in as little as ten minutes. It can be used for everything from basic rehab, to weight loss, to athletic performance. With its simple design, multiple features and easy attachments nearly every workout that can done in a fully equipped gym is now possible with one BuildingBlock. It's a perfect push/pull sled and it can be used for everything from core workouts, to weight training, to yoga.
"I have done every workout and taught every workout and decided it's finally time for something that is simple, durable, and adaptable," said Brandon Bogan, Creator of The BuildingBlock and certified fitness trainer. "We have created a "gym in a box", one piece of fitness equipment that allows you to do hundreds of exercises. When I schedule personal training appointments with clients I now bring a BuildingBlock and nothing else, and my clients get the most complete and efficient workout possible."
The equipment required to do all of the exercises available on one BuildingBlock would cost up to one-thousand dollars and likely fill a garage to store it all. The BuildingBlock is a compact 12"x 16"x 20" box with various attachments to perform any workout and it's available on Kickstarter starting at $100 for early bird buyers.
The BuildingBlock is a must-have training tool. The adjustable plyometrics box is great for improving speed, building endurance, and practicing form; the stability bar helps with stepping and jumping and is perfect for rehab exercises. Attaching bands to the box allows for resistance exercises. The BuidlingBlock is also excellent for weight lifting (extra weights can be added), plus it's ideal for shoulder presses, push-ups, bicep curls, leg extensions, yoga, pilates and much more.
The BuildingBlock starts at $100 on Kickstarter with early bird specials. For more information, and to preorder The BuildingBlock visit: https://www.kickstarter.com/projects/1474922646/the-buildingblock-as-simple-as-a-gym-in-a-box
About The BuildingBlock Fitness Company
The BuildingBlock Fitness Company came about when two guys designed & created a simple idea, combining function with need for all physical fitness. This foundation led to a single piece of physical fitness equipment to encompass the entirety of all aspects of health & exercise. All of our products are designed and manufactured locally in the U.S.A. BuildingBlock Fitness is located in Milwaukee, WI and was established in 2015.