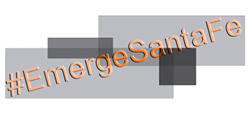 Santa Fe, NM (PRWEB) January 05, 2016
Legendary artists grace this gallery's walls, and critics from New York to Los Angeles walk its floors. Now Santa Fe's premiere contemporary art space calls on a new generation of artists to join the legacy. To celebrate the grand opening of their new gallery space on Pacheco Street in Santa Fe's midtown art and design district, David Richard Gallery collaborates with @SimplySantaFeNM and Strangers Collective for #EMERGESantaFe, a special Instameet event in 2 parts—part 1 on January 16 to gather the photographic imagery for the competitionand part 2 on February 5 to present the juried presentation.
The gallery's exhibition program, DR Projects, bridges the gap between Santa Fe's world-class contemporary art community and a rising set of local creatives with fresh perspectives to share. #EMERGESantaFe offers the community an exclusive tour of the new space with @SimplySantaFeNM, and the chance to participate in a first of its kind juried exhibition that will benefit local art group Strangers Collective.
"Through DR Projects, young talents like Eric Gellert and Tim Cox have entered our space to spark exciting new dialogues," says gallery co-director Richard Barger. "We're excited to invite emerging artists to produce and mount a photography show entirely within the walls of our new home."
The public is invited to bring their cameras to David Richard Gallery's new location for an exclusive behind-the-scenes tour with @SimplySantaFeNM on Saturday, January 16 from 12 noon to 9 pm, with artists talks (2:00 – 5:00 PM), social hour (5:00 – 6:00 PM), and a special "Emerge" themed Salon from 6 to 9pm. On exhibition will be new artworks by British artist Paul Huxley, Italian painter Michele Bubacco and American ceramicist Monte Coleman—all in their first ever solo exhibitions in the US—as well as the debut exhibitions at DR Projects for Santa Fe artists Jack Slentz, Chris Collins, Tim Cox and Erik Gellert. All of these artists will be presenting and discussing their artwork between 2:00 to 5:00 pm. Photos taken at the event and posted to Instagram with the hashtag #EMERGESantaFe will be considered for inclusion in a special juried DR Projects Pop Up Photography Exhibition opening Friday, February 5th. The images created during the Instameet will be judged by a special panel made up of art curators, critics, gallerists and experts from New York, Los Angeles, and Santa Fe and be available for sale. Part of the exhibition's proceeds will benefit the contributing artists as well as Strangers Collective, a local alliance of emerging artists.
"We are very excited to be working with David Richard Gallery to bring Instagram together with the world of contemporary art to help inspire and benefit emerging artists in Santa Fe", says @SimplySantaFeNM co-founder Caitlin Jenkins. "The level of talent in Santa Fe is extraordinary and we are thrilled to combine our traditional Instameet format with an unprecedented opportunity to show work at a world class gallery through this very unique and unprecedented special series of events."
"Collaborations like this have been our mission since the beginning," says Strangers Collective co-founder Kyle Farrell. "We're so excited to work with DR Projects to usher in a new vanguard of Santa Fe artists."
About David Richard Gallery and DR Projects:
David Richard Gallery is now located at 1570 Pacheco Street, Suite A1, Santa Fe, NM 87505, P: 505-983-9555. Since its inception the gallery has produced museum quality exhibitions that feature Post War abstraction in the US. The presentations have addressed specific decades and geographies as well as certain movements and tendencies. While the gallery has long been recognized as an important proponent of post-1960s abstraction—including both the influential pioneers as well as a younger generation of practitioners in this field—in keeping with this spirit of nurture and development the gallery presents established and very new artists who embrace more gestural and representational approaches to the making of art as well as young emerging artists.
In 2015 David Richard Gallery launched DR Projects to provide a platform for artists of all stripes—international, national, local, emerging and established—to present special solo projects or to participate in unique collaborations or thematic exhibitions. The goal is to offer a fresh look at contemporary art practice from a broad spectrum of artists and presentations.
For additional information please contact:
David Eichholtz | 505-983-9555
d(at)DavidRichardGallery(dot)com
Or #SimplySantaFe at 505-231-1122